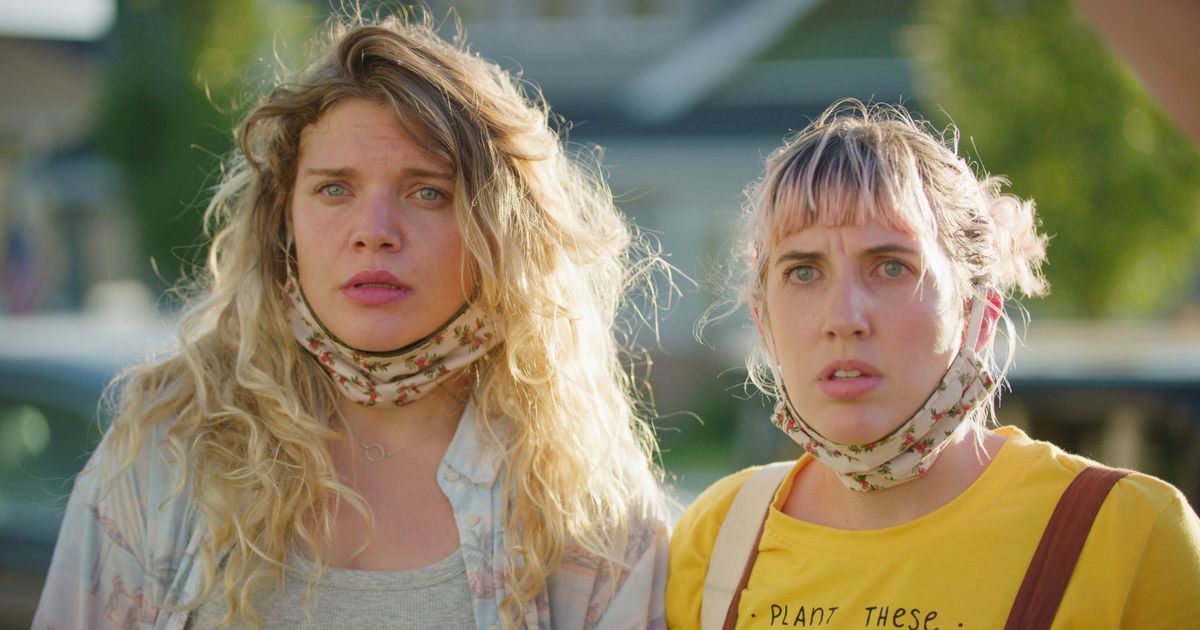 Marks Third Acquisition with a Fall Theatrical Release
Newly formed distributor Decal has acquired the U.S. rights to "Recovery" from directors Mallory Everton and Stephen Meek. The road trip comedy screened earlier this year at the 2021 SXSW Film Festival where IndieWire called it "a mile-a-minute cross between Booksmart and Locke." Decal is planning a hybrid theatrical & VOD release this Fall.
Recovery was written by and stars Everton alongside Whitney Call and follows two directionless sisters who brave a cross-country road trip to rescue their grandmother from an outbreak at her nursing home. "Recovery" is a Sorø Films Production in partnership with BuzzFeed Studios. Scott Christopherson, Babetta Kelly, and Abi Nielson Hunsaker produced.
"Recovery is our love letter to the world after the year we've all had, and we couldn't imagine joining with a better team than BuzzFeed Studios, and now Decal. Their vision for indie film and the expertise they're bringing to get Recovery out there are very exciting," said Mallory Everton, Whitney Call, and Stephen Meek.
"BuzzFeed Studios is thrilled to partner with DECAL on Recovery," said Dan Katt, Sr. Director of Operations for BuzzFeed Studios. "DECAL's innovative release strategy and commitment to smart and effective marketing aligns with our audience-first philosophy and mission: to tap into our network of communities and build passionate fandoms for feature films."
The acquisition deal was negotiated by Ayo Kepher-Maat, DECAL's SVP of Acquisitions, along with Pip Ngo from XYZ on behalf of the filmmakers.
Previously, Everton, Meek, and Call wrote for and starred in the television series "Studio C," "Freelancers," and "Loving Lyfe."
The newly-launched film label Decal acquires a wide array of exciting independent films and present them to audiences across multiple platforms. Decal will release Jaco Bouwer's "Gaia" in theaters this week and Ride the Eagle starring J.K. Simmons and Susan Sarandon on June 30th.
In addition, Decal manages the home entertainment rights of both NEON and Bleecker Street's curated slate of high-profile, thought-provoking films, and is continuing to add other key partnerships. Decal's first release was Bleecker Street's "Supernova," starring Colin Firth and Stanley Tucci. Decal is offering an ideal environment and option for the independent's best-in-class digital distribution by optimizing the transactional window with its robust slate of films and strategic partnerships.
Recent Decal titles include "Together Together" starring Ed Helms and Patti Harrison, which was released theatrically by Bleecker Street on April 23rd, with VOD and EST following on May 11th and "Dream Horse," the brand's first PVOD title, starring Toni Collette and Damian Lewis, which released on June 11th. Additional films will include NEON's Spencer, starring Kristen Stewart as Princess Diana, the Sundance award-winning film, "Flee," and Jamila Wignot's "Ailey," an immersive portrait of dance pioneer Alvin Ailey.