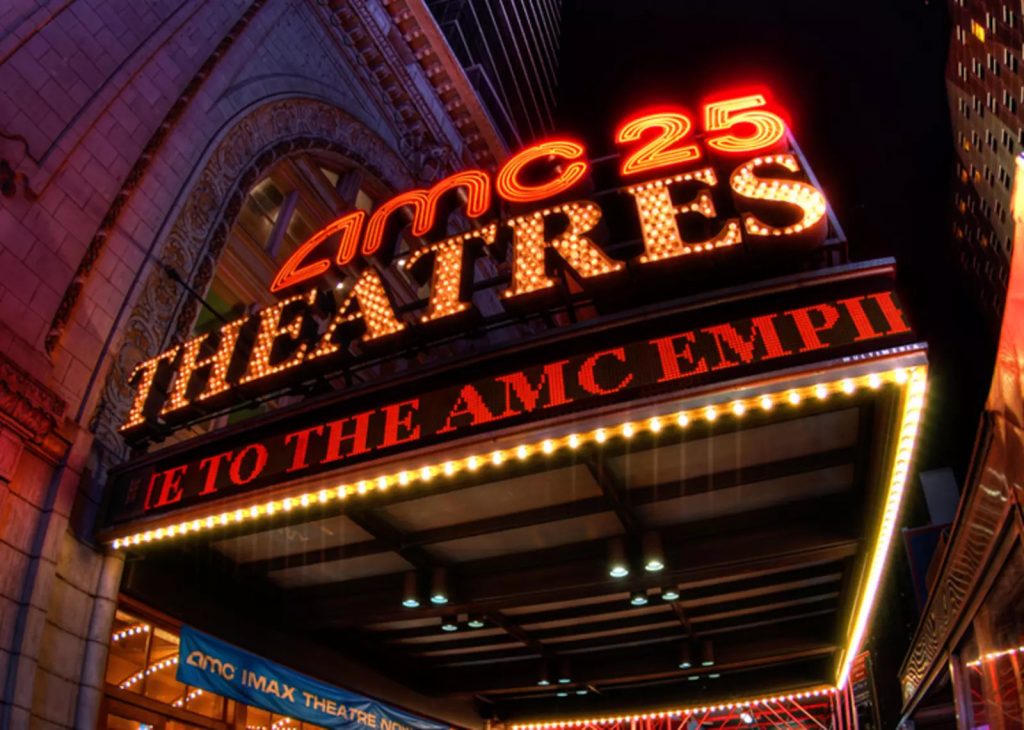 AMC expects to have more than 400 locations around the country open leading to the release of Warner Bros.' "Tenet" on September 3
After a successful reopening at more than 100 locations nationwide, AMC Theatres (NYSE:AMC) is preparing to reopen its second wave of theatres, with 170 additional AMC locations set to open beginning Thursday, Aug. 27, ahead of the release of "The New Mutants". After the second wave of theatres reopens, AMC will have nearly 300 open locations nationwide.
This second wave of reopenings is part of a phased plan to reopen AMC in the United States. AMC currently expects to open approximately two thirds of its more than 600 U.S. theatre locations in time for the September 3 release of Warner Brothers' "Tenet". The remainder of AMC's U.S. theatres will open only after authorized to do so by state and local officials.
Guests at all open AMC locations can enjoy new titles such as "The New Mutants", beginning Aug. 27, "Unhinged", "Words on Bathroom Walls" and "The Personal History of David Copperfield". Exciting new upcoming titles include "Tenet" on Sept. 3, "Broken Hearts Gallery" and "Infidel" on Sept. 11, and "The War With Grandpa" on Sept. 18.
Additionally, a new selection of bring-back titles will be available beginning Thursday, including "Inception", "Jurassic Park", "Raiders of the Lost Ark", The Rocky Series, "Spider-Man: Homecoming", "Spider-Man: Far From Home", "Shrek" and "Sonic: The Hedgehog", and will be priced at only $5. AMC is also offering an array of $5 food and beverage treats, including regular popcorn, regular Coca-Cola Freestyle drinks and KidsPacks, through the end of October. And all AMC Stubs members will earn double points on all ticket and food & drink purchases through the end of October.
Adam Aron, CEO and President of AMC Theatres, commented: "We are grateful for the positive feedback we have been receiving about our guests' desire to see movies on the big screen at AMC, and about our extensive AMC Safe & Clean policies and procedures. Our comprehensive commitment to operating our theatres safely now includes social distancing through limiting ticket sales and automatic seat blocking, seamless contactless ticketing, greatly enhanced cleaning procedures, the availability of hand sanitizer and disinfecting wipes throughout our theatres, as well as a mandatory mask policy for all guests and crew members. In addition, we have invested millions for high tech solutions to sanitization and disinfection including electrostatic sprayers, HEPA vacuums and MERV 13 air filters. Guests returning to AMC can do so knowing that we've been in constant dialogue with top scientists and experts in public health and cleaning about how best to reopen our theatres in ways that will be responsible and welcoming."
For full title and showtime information, moviegoers should check their theatre's webpage on amctheatres.com.
AMC Safe & Clean
Upon returning to the movies, AMC guests can expect to experience AMC's comprehensive health and sanitation program: AMC Safe & Clean, which was developed under advisement of current & former faculty of Harvard University's prestigious School of Public Health as well as the No. 1 U.S. cleaning brand, The Clorox Company.
AMC Safe & Clean components include significant reductions in the maximum tickets available for each showtime and seat blocking in reserved seating auditoriums to allow for appropriate social distancing between parties, enhanced cleaning procedures that include extra time between showtimes to allow for a full, thorough cleaning and nightly disinfecting utilizing electrostatic sprayers, use of high tech HEPA vacuums, upgraded air filtration efforts including the use of MERV 13 filters wherever possible, new guest and associate safety protocols that include mandatory mask wearing by all guests and associates, hand sanitizing stations throughout the theatre and the availability to guests of disinfectant wipes. The entire AMC Safe & Clean plan can be found at amctheatres.com/amc-safe-and-clean.
About AMC Entertainment Holdings, Inc.
AMC is the largest movie exhibition company in the United States, the largest in Europe and the largest throughout the world with approximately 1,000 theatres and 11,000 screens across the globe. AMC has propelled innovation in the exhibition industry by: deploying its Signature power-recliner seats; delivering enhanced food and beverage choices; generating greater guest engagement through its loyalty and subscription programs, web site and mobile apps; offering premium large format experiences and playing a wide variety of content including the latest Hollywood releases and independent programming. AMC operates among the most productive theatres in the United States' top markets, having the #1 or #2 market share positions in 21 of the 25 largest metropolitan areas of the United States. AMC is also #1 or #2 in market share in 9 of the 15 countries it serves in North America, Europe and the Middle East. For more information, visit www.amctheatres.com.