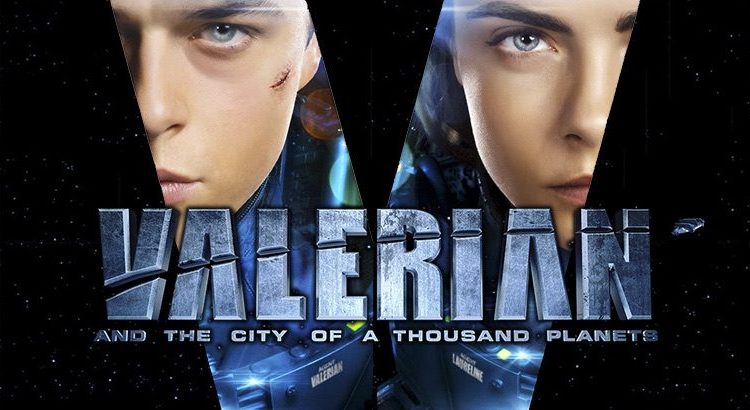 Opening Scene to be Presented in its entirety in Select U.S. Theaters showing "Spider-Man: Homecoming" beginning Thursday, July 6
Moviegoers will get an early look at the complete and unedited opening sequence of Luc Besson's "Valerian and the City of a Thousand Planets" in select theaters showing "Spider-Man: Homecoming" beginning with its first showtimes on Thursday, July 6. STXfilms will distribute the epic adventure in the United States beginning on July 21, 2017.
The never-before-seen opening sequence of "Valerian," which details the creation of the film's Space Station Alpha, will appear during the trailer section and Besson's spectacular vision of the future will be presented exclusively in 3D and Premium Large Format.
Participating exhibitors to feature the exclusive "Valerian" sequence include select screens at AMC (in Dolby Cinema), B&B Theaters (in Grand Screen Large Format), Cinemark (in Cinemark XD and RealD 3D), Emagine Entertainment (EMAX Large Format), Harkins Theaters (Ciné Capri Large Format and Ciné 1 Large Format), along with select regional circuits nationwide.
"Valerian and the City of a Thousand Planets" is the visually spectacular new adventure film from Luc Besson, the legendary director of "The Professional," "The Fifth Element' and "Lucy," based on the ground-breaking comic book series which inspired a generation of artists, writers and filmmakers.
In the 28th century, Valerian (Dane DeHaan) and Laureline (Cara Delevingne) are a team of special operatives charged with maintaining order throughout the human territories. Under assignment from the Minister of Defense, the two embark on a mission to the astonishing city of Alpha—an ever-expanding metropolis where species from all over the universe have converged over centuries to share knowledge, intelligence and cultures with each other. There is a mystery at the center of Alpha, a dark force which threatens the peaceful existence of the City of a Thousand Planets, and Valerian and Laureline must race to identify the marauding menace and safeguard not just Alpha, but the future of the universe.
About EuropaCorp
EuropaCorp is one of Europe's leading film studios. Founded in 1999, EuropaCorp has operations spanning production, theatrical distribution, video and VOD, and television sales. EuropaCorp also has international rights, partnerships and licensing, production and soundtrack publishing activities. The Group has also been producing TV series since 2010. EuropaCorp's integrated business model allows it to benefit from diversified sources of revenue. With a line-up boasting various types of films and a very strong foothold in international markets, the Group has produced France's biggest international hits in recent years. EuropaCorp was founded by French filmmaker, screenwriter and producer Luc Besson. The Group owns a catalogue of 500 movies.
About STXfilms
STXfilms is a division of STX Entertainment, a global next-generation media company whose mission is to unlock the value of the direct connection stars have with their fans through the development, financing, production, marketing and distribution of film, television, VR, digital video, music and live entertainment content. It is the industry leader in transforming beyond traditional platform-driven content to creating talent-driven enterprises.
The company is led by accomplished businessman Robert Simonds and was co-founded by Bill McGlashan, managing partner of the leading global private investment firm TPG. Other investors include Hony Capital, a leading private equity firm in China; PCCW, Southeast Asia's largest Internet and cable services provider; Tencent Holdings, China's leading provider of online products and services; Dominic Ng, Chairman of East West Bank; DNS Capital (representing the business interests of Gigi Pritzker and her immediate family); and Beau Wrigley, former Chairman and CEO of the Wm. Wrigley Jr. Company, among others. With these strategic relationships, the company is uniquely positioned to maximize the impact of content worldwide, with direct passage into the China market.
For more information, please visit https://stxentertainment.com/