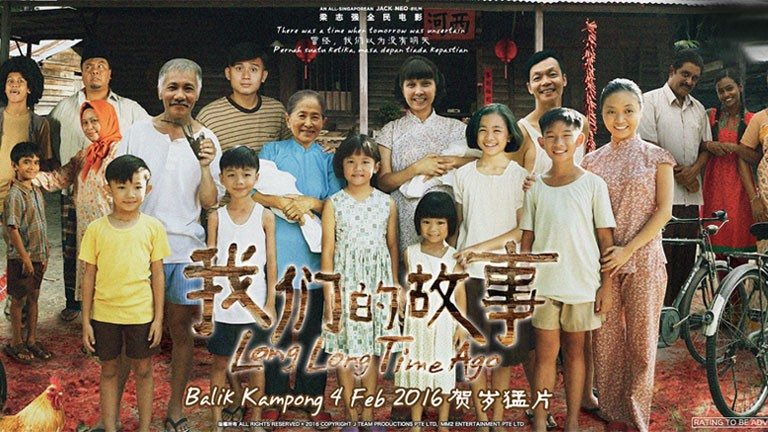 Singapore (February 17, 2016) – Market leader in digital cinema technology Barco is proud to finally introduce the Auro 11.1 immersive sound set-up to moviegoers in Singapore. Golden Village Multiplex will be the first local cinema operator to support the revolutionary audio format. The first screening in Auro 11.1 will be Director Jack Neo's full length feature film "Long, Long Time Ago," at Golden Village Suntec City theater.
Auro 11.1 by Barco is a unique sound format that adds two additional layers of sound to the existing 5.1 surround sound layer. These unique height and overhead channels create a natural, lifelike sound, with sound waves coming from every direction, just like they do in real life. These lifelike characteristics have already persuaded numerous Hollywood producers and cinema operators who were looking for new ways to differentiate themselves.
Evoking history through sound and vision
Among the Auro-converts is director Jack Neo, who mixed his latest effort, the full length feature film Long, Long Time Ago, in the format. The movie — which features an ensemble of local veteran artists including Aileen Tan, Mark Lee, Wang Lei and Suhaimi Yusof — is situated somewhere between 1965 and the early 1970s. It tells the history of Singapore's growth as a nation through the story of protagonist Zhao Di (played by Aileen Tan), as her family journeys through the years from their humble Kampong (village) to a modern HDB flat. The moody cinematography, combined with the unique features of Auro 11.1, evoke a historic setting that truly envelopes the audience.
"It's great to get the opportunity to support this unique cinematic experience with Auro 11.1 in Singapore," says Wilfred Van Baelen, CEO and founder of Auro Technologies. "I'm convinced that moviegoers will be thrilled by the experience, and feel part of the history of Singapore."
50% audio, 100% unique experience
Long, Long Time Ago is being shown for the first time in Singapore in full-fledged Auro 11.1 at Golden Village Suntec City theater. "Visualization has grown tremendously in recent years, while the evolution of audio technology has been much more gradual," explains Sebastian Fong, project manager at Golden Village. "That's why Auro 11.1 by Barco is such a monumental revolution in the history of cinema. When it is known that 50% of the moviegoing experience relies on pitch-perfect audio, you understand why we're so proud to be the first cinema operator to launch Auro 11.1 in Singapore."
"I have always wanted my audiences to fully experience the various sounds in my films as audio is an important part of any film, just like the images. With the collaboration with Barco & Auro Technologies, my audiences can truly experience the audio landscape in my movies as immersive as I have intended," added Director Jack Neo.
Eddie Tan, Barco's general manager Entertainment Southeast Asia explains why the format can truly make the difference for cinema operators: "By turning every boom, swoop and whisper on screen into a compelling experience, Auro 11.1 by Barco turns a night at the movies into the ultimate adventure. In this way, it gives film fans another compelling reason to go to the theatre, instead of watching movies in the confines of their homes."
About Golden Village Multiplex
Golden Village Multiplex Pte Ltd is Singapore's leading cinema exhibitor with 11 multiplexes housing 92 screens with locations at Yishun, Bishan Junction 8, Tiong Bahru Plaza, Jurong Point, Tampines Mall, Great World City, Plaza Singapura, 112 Katong, City Square and VivoCity, home to GV's flagship cinema and Singapore's only megaplex.
In November 2014, GV expanded its circuit with the opening of GV Suntec City, Golden Village's downtown flagship, boasting eight auditoriums and three Gold Class halls with a total capacity of 1,390 seats. Golden Village was established to develop and operate modern, luxurious multiplex cinemas and is the first local cinema company to personalize the moviegoing experience through its Movie Club program.
The prime mover in the introduction of the multiplex to Asia, Golden Village's first imprint in Singapore was made on 28 May 1992 with the successful opening of the Yishun 10 cinema complex. Today, GV has a reputation of offering the widest choice of movies, unparalleled comfort, state-of-the-art design, prime locations and convenience. Additionally, GV constantly upgrades its IT capabilities to enhance the consumer experience with notable recent additions such as Quick tix™, its enhanced iGV app and the auto-gate system.
Established in 1993, Golden Village Pictures (GVP) is Singapore's leading independent film distributor, releasing a wide range of blockbusters such as AMERICAN SNIPER, SAN ANDREAS and the DIVERGENT series, including Jackie Chan's CZ12, POLICE STORY 2013 and Stephen Chow's JOURNEY TO THE WEST: CONQUERING THE DEMONS. GVP is also the top distributor for home-grown films including ILO ILO and the AH BOYS TO MEN series.
About Auro Technologies
Auro Technologies is a spin-off of the privately owned Galaxy Studios Group, renowned worldwide for its state-of-the-art leadership in audio innovation for music and sound for film. Founded in Mol in 2010, Auro Technologies aims to create the next-generation audio standard by becoming the leader in State-of-Art sound. The company is specialized in Immersive Audio and provides 3D audio technology with easy-to-use and unprecedented levels of sound reproduction capabilities to the broadcast, digital cinema, home cinema, mobile, gaming, and automotive markets. To learn more about Auro, please visit www.auro-technologies.com
About Barco
Barco, a global technology company, designs and develops networked visualization products for the Entertainment, Enterprise and Healthcare markets. Barco has its own facilities for Sales & Marketing, Customer Support, R&D and Manufacturing in Europe, North America and APAC. Barco (NYSE Euronext Brussels: BAR) is active in more than 90 countries with 3.300 employees worldwide. Barco posted sales of 1.029 billion euro in 2015.