Uncategorized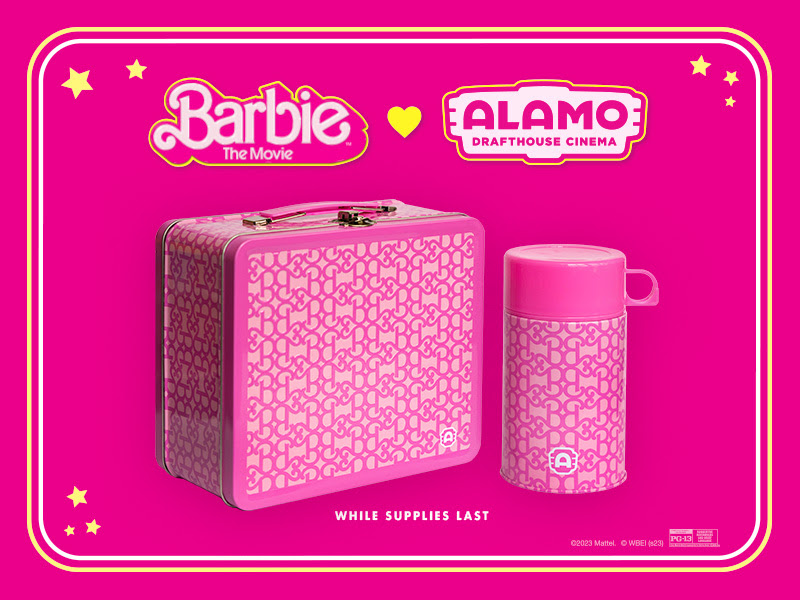 This exclusive, silkscreen printed poster is available with "Teenage Mutant Ninja Turtles: Mutant Mayhem" ticket purchase from 7/13 - 7/17 only.
We bleed pink here at Alamo Drafthouse, so you can imagine just how excited we are for Greta Gerwig's hilarious, glamorous, irreverent take on "Barbie." That's why Alamo Drafthouse Cinema is capturing just a little of that Barbieland magic with enough unique screenings, fabulous collectibles, and exclusive fun to fill a dream house.
Barbie is all about the accessories, so we're going all out with an exclusive line of must-have products that any Barbie fan would love – the BARBIE X Alamo Drafthouse Collection. First up is our Limited Edition Lunchbox & Thermos Set with a custom "Barbie" design. It's perfect for a picnic on the beach with Ken and will look great on your mantle. Here's how to get your hands on one:
Add a lunchbox set to your online ticket order for "Barbie"
Stop by the box office before your showtime and show us your purchase confirmation
We'll print your ticket and give you your lunchbox
This Limited Edition Lunchbox & Thermos Set is only available while supplies last and we don't expect them to last long, so buy your "Barbie" ticket HERE before they go back in the box forever.
And that's just the start of our exclusive BARBIE X Alamo Drafthouse Collection. We've got more fun, fabulous, and BARBIE-chic accessories headed to select theaters, including shirts for adults and kids, enamel pins, stylish sunglasses, and a stationery set, so keep your eyes peeled for our next merch drop.
Now let's talk about all the awesome ways you can see "Barbie" with us. Keep in mind that not all screenings will be available at every theater, but no matter where you are there's a little bit of Barbieland for you to enjoy.
If you want to be the first Barbie or Ken to see it, then our "Barbie" Party Blowout: Early Access Screening on July 19th is a must attend. Not only will you see it before anyone else, you'll enjoy free themed props, interactive fun, and a special cocktail available for order at the neon pink party you've dreamed about since you were five years old. Grab tickets for this sensational sneak peek HERE.
Barbies that want to go party but can't make it early are in luck, because you'll find the same themed props and interactive fun at our "Barbie" Party. If you've ever been to one of our Movie Parties you'll be familiar with the concept, but it's basically going to be a joyous celebration of all things "Barbie" with your fellow fans. Grab your tickets HERE for the most fun you'll have at the movies all summer.
If you want to feel like a real Barbie or Ken, then our BARBIECORE Dress-Up Screening is for you. Made for the most diehard Barbie fans (or anyone, Barbie welcomes all), we encourage you to put on your best Barbieland fit and celebrate the doll that we all know and love. You can even compete in our Barbie costume contest and immortalize your look in our special BARBIE Box photo op – also available for any guest at our Wrigleyville, Littleton, Downtown LA, Staten Island, St. Louis, Crystal City, and New Mission theaters. You can save your seats HERE.
Remember the joys of staying up all night playing Barbies with your besties? We sure do, and that's what our late-night "Barbie" Slumber Party Pajama Screenings are all about. While you won't actually be staying overnight in the theater (our lame parents said no) you are encouraged to wear pjs and BYOP – bring your own pillow. Our normally strict no talking policy will be relaxed a bit so you can chat and giggle with your BFFs, so get a group together and get your tickets HERE.
Last and far from least are our "Barbie" Brunch Screenings. Name a better combo than Margot Robbie, Ryan Gosling, and a whole lot of mimosas and brunch food. Can't be done. Snatch those tickets up HERE.
About Alamo Drafthouse
Alamo Drafthouse Cinema was founded in 1997 as a single-screen mom and pop repertory theater in Austin, TX. Twenty-six years later, with 39 locations and counting, Alamo Drafthouse has been called "the best theater in America" by Entertainment Weekly and "the best theater in the world" by Wired. Alamo Drafthouse has built a reputation as a movie lover's oasis not only by combining best-in-class food and drink service with the movie-going experience, but also introducing unique programming and high-profile, star-studded special events. Alamo Drafthouse created Fantastic Fest, a world-renowned genre film festival dubbed "The Geek Telluride" by Variety featuring independents, international filmmakers, and major Hollywood studios. Alamo Drafthouse continues to expand its brand in new and exciting ways, including the American Genre Film Archive, a non-profit film archive dedicated to preserving, restoring and sharing film, and with several new theaters announced for this year and beyond.