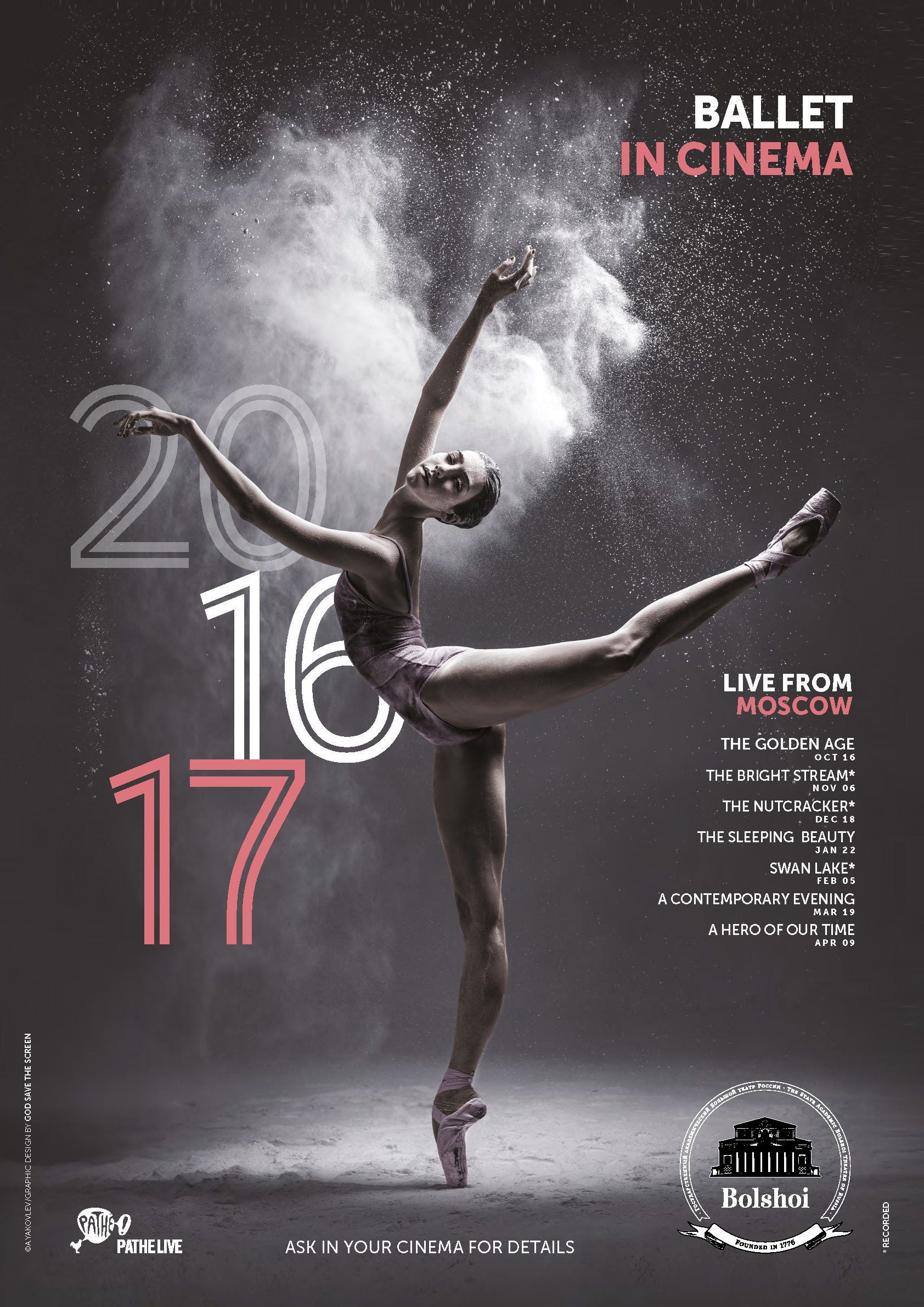 Advanced sales have started opened in some territories as the season opens on October 16 with the Golden Age.
For the seventh consecutive year, the Bolshoi Ballet opens its doors to audiences in cinemas across the globe with its 2016-2017 season: 7 unique ballets, comprising four broadcasts live from Moscow via satellite ("The Golden Age", "The Sleeping Beauty", "A Contemporary Evening", and "A Hero Of Our Time") and three other must-sees of the company ("The Bright Stream", "The Nutcracker" and "Swan Lake"), will be presented in HD with 5.1 sound.
Along with productions created by some of today's most talented and renowned choreographers coming out of Russia (Alexei Ratmansky, Yuri Grigorovich, and Yuri Possokhov), the Bolshoi presents an evening dedicated to exceptional choreography by modern giants: Hans Van Manen, Sol Leo?n and Paul Lightfoot, also featuring a piece by Ratmansky.
This program allows global audiences to enjoy the Bolshoi's ballets in more than 1,600 cinemas in over 50 countries.
The season opens with "The Golden Age" (live from Moscow on October 6), a ballet that can only be seen at the Bolshoi, in breathtaking choreography signed by ballet master Yuri Grigorovich (who will celebrate his 90th birthday in January 2017) and set to Dmitri Shostakovich's jazzy score. Alexei Ratmansky further invokes the genius of Shostakovich's music with brilliance in his laugh-out-loud comedy "The Bright Stream" (November 6) adored by critics and ballet fans throughout the world.
Three iconic ballets with music by Pyotr Ilyich Tchaikovsky will then be celebrated: "The Nutcracker" in the Bolshoi's unique version on December 18, followed by a live broadcast of "The Sleeping Beauty" (January 22) with its sumptuous sets and costumes. On February 5, prima ballerina Svetlana Zakharova takes the stage in her acclaimed interpretation of the dual-swan role Odette/Odile in "Swan Lake".
Two new productions will be transmitted live from Moscow to end the season. On March 19, the Bolshoi presents an evening of modern dance under the direction of some of the most acclaimed contemporary choreographers in "A Contemporary Evening", comprising Van Manen's Frank Bridge Variations, Sol Leo?n and Paul Lightfoot's "Short Time Together" and Ratmansky's "Russian seasons". Lastly, on April 9 the Bolshoi will present its latest creation "A Hero Of Our Time", a tragic poetic journey inspired by Russian writer Mikhail Lermontov's masterpiece, in choreography by Yuri Possokhov and set to young composer Ilya Demutsky's score.
About the Bolshoi Ballet
Founded in 1776 on a decree of Empress Catherine II, Moscow's Bolshoi Ballet is one of the most prestigious companies across the globe, boasting some of today's most acclaimed dancers such as principals Svetlana Zakharova and Olga Smirnova. On top of its rich repertoire renowned for its timeless classics (among which Swan Lake created at the Bolshoi itself in 1877), the Russian company never stops surprising audiences and innovating by inviting contemporary choreographers such as John Neumeier, Jean-Christophe Maillot, or artists from the Nederlands Dans Theatre.
About Pathé Live
Pathe? Live, a fully owned subsidiary of the Gaumont Pathe? group, is a market leader in the global distribution of Event Cinema. We distribute a wide variety of content such as operas, ballets, rock and pop concerts, gaming tournaments, film premieres, fashion shows and art exhibitions to the Pathe? Live Cinema Network. Through this network we are able to create impactful marketing campaigns reaching wide audiences across 60 territories. Our Events in cinemas are distributed live in HD with 5.1 Dolby sound via satellite broadcast or recorded in 2K, 3D or 4K. Pathe? Live introduced Event Cinema in France and our network of exhibition partners, from multiplex cinemas to independent cinemas and non-traditional cinema venues, provides full coverage across the country.
Pathe? Live has released since its inception over 200 Events in cinemas and it is notably the exclusive distribution partner of the Metropolitan Opera in New York for the Live broadcast of their Operas in cinemas across France, Switzerland, Morocco and Lebanon. Furthermore, Pathe? Live is the exclusive producer and the worldwide distributor of the Bolshoi Ballet in Cinema Season. These performances from the Bolshoi Theater in Moscow, which are produced and financed by Pathe? Live, are reaching over 1600 cinemas across 60 countries.