Just one week after CinemaCon 2023 gave the exhibition business a much needed jolt of optimism, the good news keeps on rolling in for the industry thanks to a number of corporate earnings reports. As cinema operators returned from the annual conference in Las Vegas, premium large format (PLF) leader IMAX announced the best fist quarter box office in its history, bringing in USD $282.2 million. Then two of the world's largest cinema operators, AMC Theatres and Cinemark, held dueling quarterly earnings calls on Friday, 5 May. The markedly improved performance of both should go a long way in putting an end to any remaining doubt about whether movie theatres could ever return to a financial stability, if not growth.
AMC Is Trending Positive
AMC, which operates theatres throughout the United States and Europe, beat Wall Stret analyst forecasts on every front, reporting a loss of 13 cents per share on revenue of USD $954 million during the first first quarter of 2023. That compares to a 26 cent per share loss during the same quarter last year on revenue which was USD $786 million. Investors had predicted a 16 cent per share loss on revenue of USD $938 million for the first three months of this year.
Adjusted earnings before interest and depreciation (EBITDA) improved by USD $68.8 million from a loss of USD $61.8 million during the first quarter of 2022 to a positive USD $7.1 million for Q1 2023. AMC burned through USD $189.9 million in cash over the most recent quarter, with at least USD $50 million of that going toward deferred rent payments and debt servicing rather than operating costs. That amount improved from a burn of USD $295 million during Q1 2022.
"Our results for the first quarter of 2023 represent AMC's strongest first quarter in four full years," AMC's Chairman and CEO, Adam Aron, said during the company's earnings call. "The first quarter of 2023 and fourth quarter of 2022 mark the first two consecutive quarters of positive Adjusted EBITDA since March of 2020. This progress is a testament to the ongoing recovery in the industrywide box office."
That box office, which Aron had previously predicted would be up in 2023 by 15-25% for the year, he now believes will be up between 20-30% thanks to a strong first quarter and a second quarter which is off to a great start. Attendance at AMC multiplexes worldwide reached 47.6 million during Q1, up from 39 million in 2022. That figure combines 32.4 million from the US and 15.2 million internationally. "Those 47 million guests stands in stark contrast to the naysayers and doom tellers of conventional wisdom who loudly but wrongly predicted that moving theaters were dead and an anachronism of by gone days," Aron added. "Also, as those 47 million guests came into our theaters, boy, did they ever drink. Our food and beverage revenues per patron were eye-popping at USD $6.90 per patron globally and USD $7.99 per patron in the United States. This is so far above pre-pandemic consumption and it's occurring in a very high-margin business for us."
Admissions revenue per patron dropped 1.5% during the quarter in the US to USD $11.87 thanks in part to discount Tuesday tickets. Internationally, admissions revenue per patron increased nearly 6% to USD $10.61 with food and beverage spend increasing by 12.5% to a record USD $4.96. Revenue growth per patron is being driven by premium auditoriums and increased food and concession offerings, including movie collectibles and themed-cocktails. PLF revenue represented 29.2% of domestic admissions in Q1 2023, up from 21.7% for the same quarter in 2022 and 19.9% in 2019. Revenue from premium formats grew even more overseas, representing 24.1% of admissions compared to 13.1% in Q1 of 2022, and 10.6% in Q1 of 2019. (Keep this in mind when seeing what Cinemark has to say about their premium formats.)
During the quarter, AMC also improved its cash position by raising USD $155.4 million in equity capital through issuing AMC Preferred Equity (APE) shares, the companies special equity unit which they created in the latter half of 2022 as a way to raise funds. Shareholders voted in March to turn shares of APE into common shares of AMC ahead of a 10 to 1 reverse stock split. This has led to an ongoing lawsuit filed in Delaware by certain shareholder groups who believe they are being diluted. This might be why Sean Goodman, the Chief Financial Officer of AMC, underscored the importance of APE shares during the earnings call by reminding attendees that it helped raise USD $480 million in cash to keep the company alive long enough to start recovering from the COVID-19 pandemic.
In fact, AMC's EBITDA would have been USD $17 million if not accounting for the legal fees associated with a USD $126 million potential settlement of the shareholder lawsuit.
At the same time, and perhaps more importantly, AMC began working on its balance sheet during the first quarter of 2023, continuing to reduce its heavy debt burden. Since January of 2022 the company has paid off USD $620 million in debt, often at a steep discount. During Q1 of 2023, AMC reduced its interest-bearing debt by USD $208.5 million, through debt-for-equity issuances via APE shares and discounted repurchasing. Goodman explained, "If you look at our net debt, net financial debt position today as of March 31st, and you compare that to our net debt position just prior to the pandemic on December 31, 2019, what one sees is actually our net debt is surprisingly less than it was pre-pandemic by more than USD $440 million."
This is technically accurate, with some caveats, especially if one is going by the face value of the debt or if AMC is including lease obligations in their accounting of the figure. After all, AMC has closed 136 since the pandemic began, lowering its outstanding liabilities, while opening 55 new locations, for a net-reduction of 81 locations. According to Aron the new locations continue to substantially outperform the revenue earned by the 136 shuttered venues prior to their closing. Currently AMC operates 920 theatres comprising 10,264 screens in 11 countries.
Realistically, however, with nearly USD $5 billion in debt, AMC is weighed down with USD $400 million in annual interested expenses. The company has USD $496 million in cash on hand and another USD $208 million in credit facilities, so at some point AMC will likely need to raise capital and thus the reason for all the equity conversions and reverse stock splitting. Management is setting the organization up to issue more shares at a potentially higher valuation to raise additional operating revenue and funds to pay off debt.
With all the financial indicators pointing in the right direction for the first time in four years, Aron revealed at least one of the circuit's future initiatives. "We noticed recently as a result of the pandemic and the supply chain shortages that candy manufacturers had increased their price to us by a huge amount," said Aron. "Some candy makers increased their cost for wholesale candy as much as 33% in a onetime bump. That got us thinking very hard about our candy. And we realized that we could manufacture a private label brand of candy to very high-quality standards, price it less expensively than our current candy is priced and have a higher profit margin because our cost to manufacture the private label brand is so much less than the normal brands that you've seen in our theaters for years. This doesn't mean we're going to discontinue our branded candy. Of course, we'll continue it."
Cinemark's Balance Sheet Is A Key Differentiator
Before the ink was dry on AMC's quarterly filings, the Texas-based theatre chain Cinemark dialed up Wall Street to inform investors that they too can beat the quarterly expectations of wisened financial analysts. For Q1 of 2023 the company, which operates 5,847 screens in 518 theatres throughout 15 countries in North and South America, reported a loss per share of 3 cents, beating a projected 30 cent loss. Revenue for the quarter rose 32% year-over-year to USD $611 million instead of the USD $569 million that had been forecasted.
Cinemark's EBITDA for the first three months of 2023 actually increased by 240% over the same period from a year ago to USD $86.2 million. The circuit's total cost of operations for the quarter was USD $582 million, but Cinemark's cash burn is down to USD $24.4 million for the quarter, well under the USD $139 million it went through during Q1 of 2022. It currently has USD $650 million in cash on hand giving the company plenty of runway to recover from the pandemic.
Speaking of recovery, Cinemark welcomed 43 million moviegoers into its venues during Q1, which was up 30% over the same period in 2022. Of that, 25.2 million patrons showed up in the US, generating USD $244.7 million in admissions revenue on an average ticket price of USD $9.71. That ticket price figure is up by 5% since the first quarter of last year thanks to premium formats and 3D surcharges. Concession per cap at Cinemark for the period went up 9% in the US to USD $7.41, accounting for a 32% year-over-year growth to USD $186.8 million. Internationally, Cinemark hosted 17.7 million patrons during the quarter, accounting for USD $66.3 million in admissions and USD $49 million in concession revenue.
What's worth noting is that 12.5% of admission revenue came from Cinemark's private label PLF offerings, Cinemark XD. Throw in other premium offerings and that figure rises to 15% overall.
During Cinemark's earnings call the company's President and Chief Executive Officer, Sean Gamble said, "Over the past year, we have expressed our optimism about the future of theatrical exhibition based on positive sustained trends in consumer movie-going behavior and improving volume of wide releases, and forward-looking commentary by our existing and emerging studio partners regarding the value a theatrical release provides their film assets."
Gamble was bullish on the potential box office level for 2023 thanks to the volume of films. Studios have currently dated 110 wide releases for the year, more than the 105 previously on the schedule, though he mentioned the third and fourth quarter are still about 15% off in terms of releases.
What has helped Cinemark survive through two years of pandemic closures and anemic movie releases is the strength of its balance sheet. Unlike its two large US competitors, AMC and Regal, the company has not rung up a precarious debt level. Its current debt burden is around USD $2.4 billion of which it recently paid off USD $100 million.
Mutual Agreement on Writers Strike
One of the issues both AMC and Cinemark were asked about during their earnings calls was the current Writers Guild of America strike. The television and film screenwriters contract with producers expired on 1 May and members began striking the next day. Though the labor dispute has caused most television production to grind to a halt, it hasn't yet begun to significantly affect film production or distribution.
"As far as its impact on AMC and the movie industry, if this is a short strike — and by 'short strike' I don't mean days, I mean months — its impact will mostly be felt on television programming," said Aron. "Because the movies for '23 and '24 have pretty much been written. In many cases they've already been filmed. I think only a very prolonged writers strike would have material impact on the movie industry or AMC."
Gamble agreed, "The ultimate impact as you know really depends on how long the strike lasts. A lengthier one posts more risk than a shorter one. The positive thing for our industry in the short run, the majority of the films scheduled for this year and the next are unlikely to be materially affected based on the stage of production they're in to hit those dates. We know from our studio partners they've been planning for this, trying to accelerate where they can, and given the long lead time of making films are often able to recuperate some of that time down the line depending on how it goes."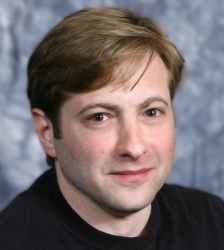 Latest posts by J. Sperling Reich
(see all)