I have a brother-in-law who spent 25 years working at Starbucks. He is forever complaining to me that, though he left the coffee company more than a decade ago, he still receives a flood of phone calls every time Starbucks makes some change that upsets a majority of its customer base. Whether it's removing a popular menu item or starting to sell pumpkin spice lattes in August rather than September, his phone will ring with family, friends and colleagues calling to gripe. He often wonders if those who reach out to him believe he has a direct line to Starbucks CEO Howard Schultz or can pass along their dismay at the next board meeting?
After this past week I can sympathize with my brother-in-law's predicament, because when AMC Theatres announced their Sightline at AMC initiative I heard from people I hadn't spoken to in years; distant cousins, old college roommates, former co-workers, a high school sweetheart, an ex-girlfriend and at least one person I was certain had died long ago. They were all calling to give me their two-cents on AMC's new pricing scheme, presently being tested in select cities, in which moviegoers will be charged for a ticket based on where they are sitting in the auditorium. Neck-craning seats in the first few rows will cost less than standard seats, though seats in the middle of the auditorium, which are the most popular, will be designated as Preferred Sightline and cost a dollar or two more per ticket.
As news of AMC's updated pricing plan spread my phone began ringing more frequently, as if somehow I worked for the exhibitor myself and could do something about it by storming into CEO Adam Aron's office. None of the comments were positive and all aligned with the multitude of sentiments and indignation being spouted either by mainstream media or even movie stars. Naturally, when it came to social media, absolutely nobody had anything good to say about AMC and its variable priced seating.
Actor Elijah Wood, for instance, took to Twitter to voice his own disdain for the idea, writing in a post, "The movie theater is and always has been a sacred democratic space for all, and this new initiative by @AMCTheatres would essentially penalize people for lower income and reward for higher income."
It's hard not to agree. Movie theatres were one of the few places that equalized income disparity, at least in terms of ticket prices. You didn't have to worry about buying a ticket months ahead of time to get the best price, as you often do for airfare, nor did you have to walk past an exorbitantly expensive first class section with more comfortable (and some might argue humane) seating to a less desirable economy class. And though some journalists likened AMC's initiative to the way airfare is sold, I would point out that it is hard to find any traveler who is particularly fond of the way airfare is priced, so emulating that model might not be the smartest move.
More than a few film industry professionals I spoke with were quick to refer to Motion Picture Association studies that reveal nearly 30% of frequent moviegoers are latino. Could AMC's new pricing affect people of color disproportionally? Are we relegating certain groups of people to the back of the bus, or in this case, the front row of the movie theatre? Though there may be merit in debating these questions, I am willing to put them aside, at least for now, since it is impossible to ask them without resorting to the worst type of racial profiling. AMC is not preventing any race or ethnicity from purchasing a ticket in any one of its three new tiers and there is not yet evidence to show that any one racial group is benefiting over another. (However, this is certainly worth monitoring over time.)
There were also those who, like Mary McNamara of the Los Angeles Times, believed to know the real reason behind why AMC was launching Sightline; they want more moviegoers to become members of AMC Stubs A-List, the company's monthly subscription offering. For between USD $19.95 per month (in less populated areas) and USD $24.95 per month you can not only see three movies per week at AMC multiplexes, but you can now avoid paying the Preferred Sightline up-charge. Perhaps there is some truth to this subscription theory. If I went to see "Magic Mike's Last Dance" at one of my local AMC cinemas on Saturday night it would cost between USD $17 and $19. For less than USD $10 more I could become an A-List member. If I'm a moderate to frequent moviegoer, why not subscribe for less than the cost of two movie tickets per month?
In fact, now that I'm doing the math, I'm half tempted to run out and become an A-List member myself.
Meanwhile, Peter Kafka, a tech journalist at Vox who I quite admire, also weighed in on the subject (and in the process got a few minor bits wrong, proving just how hard is to cover the exhibition industry as an outsider). The long and short of Kafka's take is that other entertainment venues employ variable pricing for seats so why shouldn't movie theatres? Otherwise the cost of all movie tickets is going to rise. This argument was also made by Eliot Hamlisch, the Chief Marketing Officer of AMC, in the press release announcing Sightline at AMC:
"Sightline at AMC more closely aligns AMC's seat pricing approach to that of many other entertainment venues, offering experienced-based pricing and another way for moviegoers to find value at the movies. While every seat at AMC delivers an amazing moviegoing experience, we know there are some moviegoers who prioritize their specific seat and others who prioritize value moviegoing. Sightline at AMC accommodates both sentiments to help ensure that our guests have more control over their experience, so that every trip to an AMC is a great one."
Hamlisch should get some credit here for trying to head off some of the obvious pushback AMC was going to get over the initiative. Previously AMC was boasted that every seat in all of their auditoriums provided a great movie watching experience with state-of-the-art projection and sound. Every cinema operator would say the same about any of their own auditoriums. The new pricing raises the question; Is AMC now saying that some of their seats actually provide a better viewing experience than others? If the first two rows are so undesirable, why bother selling them at all?
Comparing seating in a movie theatre to the way other entertainment venues use variable pricing to sell tickets is dubious. Presumably, those citing such examples are referring to live performance and sporting venues like arenas, stadiums, concert halls and legit theatres. In those instances attendees are paying not only for sightline, but for proximity to the action during a one-off event. Want to be in the front row for the next Taylor Swift concert? Want to high five Harry Styles during his encore? Want to sit court-side at a basketball game? Want those center orchestra seats 13 rows off the stage for "Hamilton" on Broadway? Then you'll pay a higher price than someone seated 100 metres away, five stories up in the rafters, where for all anyone knows it could be me strutting around onstage instead of Mick Jagger.
Not to mention, you can't exactly tap Lionel Messi on the shoulder and ask him to score that amazing goal one more time in the World Cup Final once the match is over. Once a sporting event or concert is over, and to some degree any live performance, it doesn't happen again two hours later. With movies, if a seat you want is available at any given showing, you can find another theatre playing the film, book another showtime or go on a different day. Attend a Bruce Springsteen concert on an alternate day and the entire setlist could be different.
If you really want to use entertainment venues to make the variable pricing argument why not take the next logical step and extend it to the content being programmed? This month the Los Angeles Opera is performing Mozart's popular "The Marriage of Figaro" directed by James Gray at the Dorothy Chandler Pavilion. Tickets range from USD $59 for the last row in the fourth balcony to USD $400 for orchestra and premium loge seats. In April, at the same venue, LA Opera will be performing Claude Debussy's lesser known work, "Pelléas and Mélisande." Ticket prices for those same seats range from USD $19 to a high of USD $284.
This same pricing model could be used for movies wherein blockbusters cost more than independent romantic comedies. AMC has already proven this by charging a dollar more for releases such as "The Batman" and extending matinee prices for "80 For Brady."
Taking such a pricing scheme to its logical conclusion, AMC could even raise and lower prices for seats based on occupancy. If a showtime for a given film is selling out fast, ticket prices stay the same (or possibly increase slightly). If a showtime for a movie has only five patrons attending as start time nears, ticket prices can be lowered to entice sales. It's the movie theatre equivalent of "rush tickets" commonly employed for live events.
Of course, then AMC would be copying all of the systemic problems that have made Ticketmaster the scourge of concert and sporting ticket buyers the world over. It's unlikely AMC is trying to become the most reviled movie theatre chain on planet earth with its Sightline scheme, but some are already comparing the two companies. Customers trying to wade through the pricing options and accompanying service charges for a movie ticket the way they do for airline tickets may eventually decide that the preferred seat for the film is in their living room just a few short weeks later.
Do cinema operators really want to give moviegoers one more reason to stay home? As it is, there is already a public perception that movie theatres are on the ropes and the leisure activity of going to see a film at a cinema is not long for this world. It's why this exchange between host Tom Papa and contestant Alonzo Bodden from a recent episode of the comedic radio game show "Wait Wait… Don't Tell Me!" generated so much laughter from the live audience:
Host Tom Papa: Going to the movies just got a lot worse.

Comedian Alonzo Bodden: Is AMC aware nobody goes to the movies anymore? Everybody just waits two weeks to stream it at home right.

Papa: It seems like a weird move to make things more unpleasant when we are already just watching things on our phone in any seat we want.

Bodden: I think they were at the board meeting and said, "We gotta speed up this bankruptcy."
Speaking of which, Regal closed all their theatres in my neighborhood after they filed for bankruptcy last September, and most of the shuttered Pacific Theatres locations are now operated by AMC. There are very few multiplex choices for moviegoers in my area of Los Angeles other than to visit an AMC location. I'm not saying AMC is relying on a lack of alternative options as a means to impose their new pricing model, though it is a common way large companies are able to socialize policies their customers aren't happy about.
Just look at Starbucks. I asked my brother-in-law how the company handles such blowback when they make unpopular customer facing decisions. He says Starbucks is so big that either the customer winds up going to another coffee shop, which isn't always possible, or they begrudgingly get used to the updated program over time. He would have given me specific examples, but our conversation had to be cut short so he could answer all the phone calls he suddenly started receiving.
Apparently Starbucks has changed its loyalty program again. Beginning 13 February more points / stars will be required before customers can redeem them for free menu items. Friends and family were calling to complain.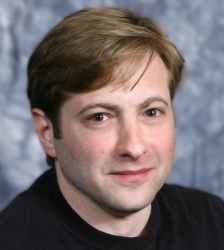 Latest posts by J. Sperling Reich
(see all)