By
Paul Heth
| September 30, 2021 2:57 am PDT
This is a Keynote Address delivered at KinoExpo International in St. Petersburg, Russia on 15 September, 2021 by Paul Heth, Executive Chairman and Chief Executive Officer of Karo Group, reflecting on the re-emergence of the Russian cinema industry. Celluloid Junkie thanks Mr. Heth for the opportunity to re-print it here. 
Good morning, I want to thank Dmitri and the KinoExpo team for inviting me to speak today, and give my comments and views regarding our beloved and chosen profession as cinema owners and operators. I recall that I spoke as well at the first KinoExpo show over twenty years ago. So much has changed since then….Of course then my hair was not as grey….but then like now I had an all consuming passion for ensuring that Russia's and the world's most creative and extraordinary film makers could share their unique vision and stories where they belong…on our big screens complete with digital sound, enjoyed by appreciative and enthralled audiences from of all ages and all walks of life.
All of you here today have my respect and admiration for the way you and your companies faced the very real challenge of the Pandemic. I know that last year at the height of this frankly awful and dark period for our industry many so called experts and critics pronounced that the era of movie-going was over, and that theatrical exhibition as an enterprise was an outdated concept whose best days were long ago. When I hear such comments and pronouncements I can only smile and reflect that during my own career here in Russia we have all overcome such predictions in the recent past.
By telling you today a bit of my own experiences we can find parables and analogies to the current business environment we find ourselves. In my view technological disruption and changes in contemporary market practices lead to opportunities for those who are bold enough and willing to pursue them.
In 1993, just a few years after the breakup of the Soviet Union, I found myself in Russia. I had a total of $600 to my name. One night I was out with a friend at a bar in Moscow, and we decided to go see a movie. Much to our amazement we could not find a single movie theater open in all of Moscow. We were shocked.
An Industry in Crisis
I soon learned the film industry in Russia at that time was in full crisis. Due to the severe financial impact caused by the initial market reforms of perestroika, the state could no longer support the country's film industry, which in turn could not sustain itself commercially. What had once been one of the world's most vibrant cinema markets with over 10,000 screens spread out over the world's largest country went essentially dark, local cinemas became markets, hair salons, car dealerships and other types of shops. Domestic theatrical productions ceased and the consumer market was over run with inexpensive pirated VHS cassettes. So I not knowing any better I got this wild idea with my partners to fill this gaping need… We would open our own movie theater.
I was able to secure from the producers the rights to a 1992 film, based on the seminal novel "The Plague" by Albert Camus. Of course, I hoped the film's title would not foreshadow my career as a movie executive. After opening our single-screen movie theater in a large conference hall of the Moscow Radisson Hotel, we showed the film for two weeks, and night after night, much to our amazement, we sold out.
I advise that we can never put a limit on our own ambitions and expectations…This is an example.
What did I know then about the movie industry? But I saw a need, and in that need I saw an opportunity. So here's the lesson I really learned firsthand: Be awake and open to opportunity and success. And make sure you're ready for it when it presents itself. There's an expression attributed to the great French scientist Louis Pasteur: "Chance favors only the prepared mind".
As you continue to embark on the growth of your companies as we all emerge from the challenge of covid, no matter the circumstances, each of you will be presented with opportunity. Be prepared for it—because it's what you do with that opportunity that will determine the path forward for you and the stakeholders in your ventures.
While our Moscow theater became a phenomenal success, I knew we could do more, because I viewed the movie industry in Russia as one great big opportunity. In this country of nearly 150 million people, box office receipts at the time in the early 90's totaled just $3 million a year.
Our big break came in 1996. And it began with a stroke of luck, when I met a Kodak executive at the Moscow airport. Talk about opportunity!
I asked him if Kodak might partner with me in building a state-of-the-art cinema in downtown Moscow. I pointed out that Russia had a special cinematic heritage that stretched back to the seminal films of Sergei Eisenstein in the 1920's ,up through the golden era of Soviet cinema with such genius directors as Andrei Tarkovsky and Sergei Bonderchuk, as well as the recent 1994 academy award winner for best Foreign Film "Burnt by the Sun" directed by Nikita Mikhalkov. I further stressed as enthusiastically as I could that by working together we could prove Russian audiences were eager to return to cinemas, and would doubly so if we could provide them with a movie going experience complete with the most advanced technologies of the day to include digital sound, air conditioning and modern film projection on super sized bright right screen…yes those items we consider basic today did not exist then in the Russian market.
Kodak Helps Bring Back Cinema Glamour
Kodak agreed to make an investment, and shortly thereafter we opened a truly grand cinema just a stone's throw from the Kremlin. We built it to resemble a theater from Hollywood's early days with a sweeping staircase and shiny brass rails, a huge marquee above the entrance, and a 60-foot screen complete with digital sound—a first for Russia. We called it Kodak Cinema World—or, in Russian, Kodak Kinomir.
Now all we needed was a blockbuster movie. Fortunately, the Walt Disney Company graciously gave us the "The Rock," starring Nicolas Cage—at the time, one of the biggest movie stars in the world. "The Rock" was a smash hit. Ticket lines stretched for nearly a kilometer. Within a year, the Kinomir became the top-grossing single-screen movie theater in the world, launching Russia's modern cinema era—in which I am immensely proud to have played a part.
I believe my work in the film sector, both showing and producing films, has helped to build bridges between different audiences and different cultures and I am sure much of that is due to the bond we form when we share our stories—something I learned as a young boy in California going to movies with my father. I especially like this quote from Walt Disney himself: "Of all our inventions for mass communications," Walt said, "motion pictures still speak the most universally understood language."
When we share our stories we discover our common humanity. And that might be the most important lesson I've learned in my career and from my time as guest and working here in Russia —the ability to make meaningful and direct connections with our patrons has been the true definition of our success.
In the two decades since we opened the Kodak Kinomir, I've had the good fortune to partner with some of the leading figures in the both the Russian and international film industry. Together we've built scores of movie theaters and helped invest in and produce some amazing motion pictures. As an example of all of our achievements, box office receipts in Russia, for both Hollywood and Russian-made films, were nearly $1 billion in 2019 the last full year before covid. I am confident together we will achieve this result again in 2022.
Over these past years in my businesses I've also known significant trials and tribulations and failure. I'm here to tell you that overcoming challenges and obstacles often is a blessing and focuses all of us as executives and owners to embrace change, seek out technology and find long lasting solutions.
Lessons and Learnings from Failure
If I've been successful in my career, it's likely because I've been smart enough to learn from my failures. Even after the success of the Kodak Kinomir, it took another six years to get the financing needed to build our first multiplex movie theater in Russia. I still have bruises on my nose from all the times I had doors slammed in my face by potential investors.
But that process taught me the value of persistence and a positive attitude. "Attitude is a little thing that makes a big difference".
I took my experiences I learned from Kodak and went on to build first the Kinostar cinema chain with our truly great partners National Amusements, and now with my colleague Olga Zinyakova and our team we are reshaping Karo into what we endeavor to be one of the Filmed Entertainment companies not just in Russia, but internationally as well.
We have been very aggressive with our expansion and our investing heavily in emerging technologies to include integrating our operations with social media and other online platforms. The ability to communicate directly with our customers through such means will lead to even more frequency of admissions to our venues. As an example of our continued commitment and belief in the Russian domestic cinema sector we will open beginning this December 2021, 15 state of the art, Karo: new generation locations in Moscow and in the regions over the next 18 months. This is the largest and fastest pace expansion by a single cinema operator in the overall global cinema sector.
During the past century through periods of economic and social uncertainty and upheaval, war, and yes even other pandemics one truth has remained consistent…that the communal experience of enjoying the magic and wonder and imagination of storytelling on a epic scale in a cinema with your loved ones, friends and people who you have never met or do not even know, is truly a one of a kind and special occasion.
We should all be very proud that Russia is now the number one cinema market in Europe in both box office and admissions. This is an immense achievement and my congratulations to you all.
Looking to the Bright Future
In closing my remarks today and if I may …let me please address the proverbial "elephant in the room"…there has been much conjecture in the press that major film producers and studios will bypass the theatrical window entirely and solely release all their films directly to their own streaming services. During the height of the Covid pandemic virtually all international cinema markets were in fact closed, or were highly restricted and in turn consumers could only view newly released films via streaming services. A number of studios focused on a direct to home strategy while our patrons were essentially forced to stay home for obvious reasons. Our perspective based on our fiscal forecasting and projections is that this initiative was not successful nor sustainable in terms of long term revenue and profit .
Robust box office numbers generated these past several weeks from Disney's Shang-Chi demonstrate the tremendous cash generative opportunity to be gained by utilizing the cinema platform before releasing films directly to the home. This Marvel film was released on a more traditional "theatrical first basis" and we compared these results, to the results of those films of Disney and other major studios that experimented with hybrid day and date releases of both in cinema and in the home. The difference in revenues is striking and our view confirms the very material value of the theatrical first window.
I know from my own experience as a producer that motion pictures with a theatrical release enjoy much more viewer awareness on subsequent in home platforms to include streaming then films who do not have theatrical releases. Given the huge costs of production, the exclusive theatrical window is vital both to allow producers and film financiers to recoup their significant investments, and to create long lasting library value for their films for further exploitation.
I can only imagine the pressure our colleagues in the studios were and are under to directly reach audiences when many cinemas were shuttered or restricted during the height of covid crisis. Their attempts to experiment various ways to do so is understandable…however, it is clear that audiences want to see motion pictures in the most impactful format for which they were created and produced….on the big screen in our cinemas.
There has always been strong original content developed and produced for television audiences. In fact our internal research shows that our most avid movie going patrons are often also uber consumers of multiple streaming services. The truth is that enjoying movies is in many ways a lifestyle. The success of Cinema and correspondingly the success of streaming does not impede or negatively impact each other. Actually I am more then confident that a vibrant Cinema sector will directly lead to even a more successful in-home Market for motion pictures. Every movie ever made ultimately found its way after it's initial theatrical release into peoples homes Via a number of platforms to include broadcast tv, pay per view, cable and premium television, dvd and blue ray, streaming and so on.
Simply put…The exclusive theatrical release window for films is good business, generates significant revenue, and essentially positions films for repetitive viewership across all platforms in all forms and on all devices.
It is critical that none of us on the Cinema side of things should take for granted, and count solely on the theatrical releases from a relatively small number of major studios. We should all continue to encourage and support more domestic theatrical production, program more Diverse content to include sporting events, concerts, opera and gaming and interface with upcoming and not yet discovered filmmakers to allow their stories to be told on our screens as well. . The world is changing rapidly. Like all progressive, forward thinking businesses we need to be open to change and to utilize technology as an opportunity to broaden and further our message.
Cinema is so vital to today's society as it allows people from different cultures and upbringings to share their unique stories and dreams with one another. All of us here today are very fortunate to actively participate in such an exceptional and hugely important industry. Cinema is for sure amongst Humanities greatest treasures. Ours is a business that is very special. Cinema is the crown jewel of the media landscape as we give people a reason to LOOK UP!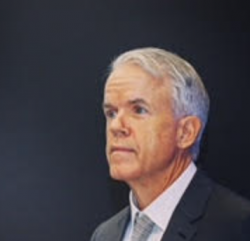 Latest posts by Paul Heth
(see all)