Letter to the Editor
Cinemas lack movies, not audiences
The Danish movie industry has shown that the turning point is not far away and that few factors are making the difference for recovery.
In Denmark, the past weeks have demonstrated that the audience is ready and will visit the cinema if the movies are there. On September 24th the local Danish movie "Druk" ("Another Round") – directed by Oscar-nominee Thomas Vinterberg and starring amongst others Mads Mikkelsen – premiered. The absence of international movies ensured it an abundance of capacity in the cinemas and it is now estimated to pass 800.000 admissions making it the largest Danish movie in 3 years – and this in the middle of the COVID crisis with restrictions reducing seat capacity to 70%.
There is little doubt that "Druk" is performing better because of COVID as all movies released in the Danish market since the cinema opening in June has over performed their pre-COVID estimates with app. 26% on average.
It is certainly possible that "Druk" would not have performed as well in June, just after the cinemas in Denmark re-opened, but after only 4 months the audiences have learned to enjoy the cinema experience with COVID restrictions.
This is what the Danish cinema exhibitors have learned in the last 4 months.
Normal is not when restrictions are gone, but when the audience are socialized to them
Making guests feel safe and free of worries to enjoy their movie is of course an important factor. During the COVID crisis restrictions have come in all forms changing along the way as authorities grew wiser on the virus and how to stop it from spreading. Exhibitors have had to translate and adapt government directions while ensuring that the element of entertainment was retained. There has been a learning curve where exhibitors have learned to incorporate the restrictions in the flows and audiences have gradually adapted their behaviors to a point where the restrictions are only noticed if they are violated – this to say that the perceived negative effect of restrictions is declining as audiences are socialized to COVID society, and it has only taken weeks.
30% reduction in seats does not mean 30% reduction in admissions Communicating the actual and practical implications of capacity restrictions to studios and distributors is another important factor. It is easy for the exhibition side to assume that distributors know that a reduction in seat capacity of >30% does not mean that cinemas can only accommodate less than 70% of e.g. last year´s admissions. In an average year, cinemas typically have an overall utilization of between 18-30% on classic seats and 35-70% on recliner seats, with a high spread over weekdays/time-of-day with monthly fluctuations on top. What does this mean for COVID capacity?
Nordisk Film Cinemas – the market leader in Denmark and Norway – simulated 2019's actual admissions in Denmark day-by-day, screen-by-screen, show-by-show, on the present COVID reduced seat capacity (app. 66% of normal). The results showed that 93,4% of 2019's admissions could be accommodated – far more than most would dare to guess, and more than enough to support a fairly normal release schedule.
For the sceptics we repeated the simulation for Q4 2019 alone – the result was 92%.
Distributors are missing out on free capacity, and cinemas know when to say "postpone that"
Cinemas are now open with restrictions in most of the world, operators have made their flows COVID safe, audience feel safe and only notice restrictions if they are violated, cinema capacity is slightly less compared to a normal release year, but there is plenty of capacity for more movies to overperform. From Nordisk Film we urge distributors to come forward with their movies – there is plenty of capacity to go around, and when the capacity limit is reached then, and only then, should distributors and cinemas alike postpone releases.
Asger Flygare, CEO, Nordisk Film Cinemas
Nordisk Film produces award-winning film and TV series, operates a cinema chain in Denmark, Norway and Sweden, develops computer games through a number of game studios, is behind PlayStation in the Nordics and brings digital gift card solutions to the market. Nordisk Film is a part of Egmont, a leading Nordic media group focused on award-winning content and platforms within film, television, streaming and cinema over gaming, e-commerce and marketing services to educational platforms, magazines and books. Egmont is also behind companies like Egmont Publishing, TV 2 Norway and Lindhardt og Ringhof. Being a foundation, all profit is reinvested in our media companies and donated to help improve the lives of children and young people and support film talents.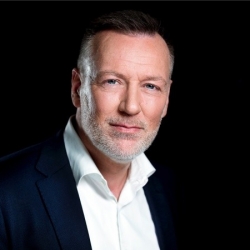 Latest posts by Asger Flygare
(see all)