When the idea to distribute motion pictures via satellite through a low-cost cooperative called the Digital Cinema Distribution Coalition (DCDC) was first being floated in the late 2000's, it received a fair share of skepticism from certain cinema operators and content providers. It's not that delivering content via satellite was inconceivable, broadcast and cable networks had been doing it successfully for years. Rather it was the need for disparate variables to come together perfectly in order to make a business model for the satellite delivery of movies a success.
Whether it was questions about the venture's economic feasibility, technical issues associated with building a satellite delivery network or simply the usual pushback that always comes from industry players when most new solutions are introduced, any number of obstacles could have prevented DCDC from ever getting off the ground.
The main hurdle DCDC faced when serious discussions began in 2009 was that the industry was still in the midst of a worldwide digital cinema rollout; one of the biggest technology conversions in the history of the motion picture business. That reality, combined with an ongoing global financial crisis served to delay any possibility for DCDC to execute a satellite delivery plan in earnest.
So, DCDC spent three years fleshing out their technology and business model before launching in October of 2013 with Warner Bros. Entertainment, Universal Pictures, AMC Theatres, Cinemark and Regal Entertainment Group as its founding partners. With the three largest circuits in the United States onboard DCDC was able to distribute content to a network that covered 17,000 screens in 1,200 venues at launch.
Soon enough 20th Century Fox, Lionsgate, National Amusements, Paramount Pictures, Sony Pictures, Southern Theatres and The Walt Disney Company were all customers of DCDC delivering and/or receiving content through its network. To date, DCDC has contracted with more than 240 exhibitors and can deliver content via satellite or terrestrially to 31,000 movie screens at over 2,800 cinemas.
In its first four years the venture has successfully delivered over 1 million pieces of content from 44 different content providers. The network continues to expand its offerings and is now capable of supporting everything from feature films and trailers, to live content, pre-show, promotional material and e-sports.
Shepherding DCDC to success for all these years and overseeing its growth has been Randolph "Randy" Blotky, its CEO. Celluloid Junkie was recently able to interview Mr. Blotky via email to get updated on the venture's latest developments and learn more about some of the issues it was originally up against. The following is an edited transcript of our conversation:
Celluloid Junkie: When DCDC first started there was some significant effort to get other companies involved, specifically, other studios and maybe even other exhibitors. Can you tell us a little bit about what happened during that effort?
Randy Blotky: Back in 2007, when Warner Bros. and a few other entertainment companies started talking about the best way to implement the idea of electronic delivery of content to digitally enabled theater sites, they realized that other distribution and exhibition companies might also be interested in joining the effort. But when the full force of the financial crisis hit in 2008, the markets financing the digital rollout dried up. It took more than a year for the economy to begin to bounce back and financing to become available, allowing the digital rollout to truly begin and discussions to ensue about the best way to make electronic delivery a reality for the industry. By then, it was March of 2010 and Warner Bros. hired me as a consultant to help figure out how best to stand up a business around various types of electronic delivery. Also by then, Warner Bros., Universal, AMC, Regal and Cinemark had come together as the founding partners of DCDC with the aim of establishing a true industry initiative that would, as collegially and as practically as possible, offer a fair low-cost content delivery solution for all content providers and exhibitors alike.
So, we examined several different technological mechanisms for delivering content electronically to the then growing number of digitally-enabled theatre sites in North America. We fashioned business models around each of them, came to some initial conclusions about what a DCDC network needed to look like, what precepts needed to guide both the economics and the business guidelines that would need to be consistently followed by such an entity. We then began reaching out to prospective customers beyond the founding partners.
As we met with potential content provider customers, it became rather typical for them to confront us with, "Randy, you seem like a nice guy, but why would I ever entrust my crown jewels of intellectual property to a company that is owned by two of my largest competitors and the three largest theater chains?" Not an unreasonable question given that at that point in time, DCDC had no track record of delivering any content anywhere. We knew we had to convince him – and everyone else – that, as a user of the system, we would protect the integrity of their content, and that we would create the pioneering economic model that we now have that would accrue economic benefits equally to all customers.
Our three exhibitor and two studio founding partners deserve a lot of credit for coming together as they have to create DCDC and its network. They had to overcome historic feelings of mutual mistrust on key issues facing the industry to successfully engage with one another in the incredibly complex work of envisioning what the network should look like, designing it to accommodate both technological and business issues, and creating an economic model that was both realistic to achieve and compelling to potential content provider and exhibitor customers alike. The ownership and evolution of DCDC is what actually stands out most to me about all of this, because it is something that has never happened before in the history of the entertainment industry.
CJ: Once the founding partners' capital investments have been repaid, have there been discussions about rebates going back to users of the system? If so, can you explain what these rebates are in further detail and how this is meant to work? What are the rebates for?
Randy Blotky: Our formula works on the following basis – after the DCDC founding partners are repaid their initial investments, revenues received in any calendar year that would otherwise be posted as after-tax profits will be distributed to the users of the system in proportion to (1) how much revenue each customer has been responsible for during the immediate past year vs. total revenue for that period, and (2) how much revenue each customer has been responsible for since their inception as a DCDC customer vs. total revenues from the beginning of DCDC's operations. Each of 1 and 2 will be weighted equally in the calculation. Over time these rebates will have the effect of substantially lowering everyone's total cost of delivery even further for all of the kinds of content we deliver.
CJ: One of the goals of DCDC was to have all content owners and exhibitors treated exactly the same contractually. Have you been able to maintain that?
Randy Blotky: Yes. We pride ourselves on delivering on our promises. When we say everybody receives exactly the same pricing – even if they are one of our five founding partners – we mean it. In fact, I believe our egalitarian, industry-centered business plan has been a key driver of our success. It ensures zero cost of entry to all content provider and exhibitor customers signing on to our open network because we pay for, install and continue to maintain all of the equipment that goes on and into theaters. In terms of pricing to our exhibitor and content distributor customers, it is significantly less expensive than the delivery of hard drives and physical media to theaters. In short, it is a win-win for everyone.
CJ: Are there any holdouts in the U.S. that do not want to participate in DCDC, either on the exhibitor side or the distributor side? If so, what might be preventing them from participating?
Randy Blotky: So far, we have been very fortunate in that both the number of customers on both the exhibition side and on the content provider side have continued to grow, and the volume of content placed with us for delivery by our content provider customers has also continued to grow. I firmly believe DCDC's success in that regard is due to the fact that once a customer or potential customer understands what DCDC is and what it stands for; once it is proved to them the first time, either by observation or by actual experience as a new customer of ours, that all of our customers of the same type are treated the same; that we mean what we say when we say it; and that we are honest about what we can and cannot do in any given circumstance, they become avid and loyal customers of DCDC.
CJ: Who do you see as DCDC's competitors?
Randy Blotky: No one has been able to replicate our combination of a high-quality commercial technological content delivery platform with a unique business model sporting a zero cost of entry to potential customers, or the immediate cost savings we provide – with more promised over time as initial capital expenditures are repaid to DCDC's founding partners.
CJ: What are your thoughts on global expansion of the company? Are there plans to expand DCDC into other parts of the world? Possibly Latin America, Europe or Australia?
Randy Blotky: DCDC's territory is North America. We have chosen to focus on the U.S. because of certain current vicissitudes with the Canadian market but we have every intention of delivering content to Canada, just as soon as it makes sense to do so. With regard to the rest of the world, we have had many inquiries from several major territories as our business and technology model and the all-inclusiveness of our network, which has caught the attention of the international motion picture community. I am hoping that eventually they can all adopt at least parts of our model. Their distribution costs are higher than in the U.S., so it would be good for the industry everywhere if they can follow certain aspects of our approach. Each territory will, of course, be unique.
CJ: What percentage of screens is DCDC incapable of servicing due to circumstances beyond either the company's or the exhibitor's control? (e.g., Roof rights, geolocation, satellite reach, etc.)
Randy Blotky: There is really no current accurate answer to this question – only estimates and they are not really anything to base hard and fast planning on. I can say that at the end of this year, DCDC plans to have approximately 2,600 satellite-enabled sites up and operational on its network. And, we plan to eventually serve all exhibitors in North America with our service, which will begin to look more and more like the "hybrid network" that you have heard me speak about over the years. It will have multifarious electronic delivery components comprised of geosynchronous satellite, like we have today, and various high-speed terrestrial delivery mechanisms, and probably some low earth orbit satellites thrown into the mix as well. As a true customer-facing industry initiative, we are very excited to see how all this develops and to help such development efforts along whenever we can.
CJ: What key issues has DCDC recently overcome?
Randy Blotky: With the conversion to SMPTE-DCP underway, the number of digital versions of each film has increased dramatically as more and more exhibitor sites now have the capacity to handle them. The DCDC catch servers come with 12 terabytes of RAID storage, of which 9 TBs are useable, as well as a 1 TB removable CRU drive that theaters can use if their library server or media network goes down.
Adding more RAID storage will be necessary ultimately but, in the meantime, we have asked our content provider customers for approval to remove content sooner when storage space is needed for newer content. Everyone has been very understanding of this issue and so this tact has proven to be an effective option so far that will allow us to repay our founding partners their initial investments sooner, which in turn will permit rebates to our customers to kick in sooner and reduce the rates over time for all DCDC customers based on their usage of the network.
CJ: What do you see as the challenges and the opportunities that lie ahead for DCDC?
Randy Blotky: Evaluating and selectively integrating next-generation technologies into DCDC's operations in a way that will continue to drive all content delivery costs down over time.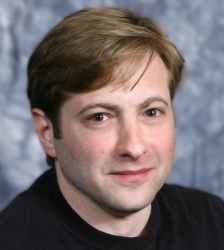 Latest posts by J. Sperling Reich
(see all)