Jennifer Douglass is living proof that the movie business can get into your blood and make it difficult to pursue other professions. She has been working in motion picture exhibition since a day before her 15th birthday when she was hired by AMC Theatres as a popcorn scooper. More than 29 years later, Douglass has worked her way up AMC's corporate ladder to become Vice President of Dine In Theatre Operations. She has spent the better part of the last six years overseeing the expanding menu options in select cinemas of the largest exhibitor in the world, becoming one of the industry's most influential food and beverage executives in the process.
In speaking with Douglass it quickly becomes obvious that any discussion of her career at AMC provides the perfect window through which to survey the transformations of the exhibition industry and the company itself during that extended period of time.
Before making it to the circuit's head office in Leawood, Kansas, Douglass began her career as a staff member bouncing around between AMC cinemas in her hometown of San Diego. After graduating from San Diego State University she took salaried managerial positions with the chain. Though San Diego wasn't exactly a booming market in the mid-1990's AMC decided to build two theaters; the La Jolla 12 and the Mission Valley 20.
"Mission Valley was only the second megaplex that the company had ever built," Douglass recalled. "To me that was very exciting to see the direction that the company was going in terms of up until then I had only worked at theatres with 10 or 12 screens, so certainly having a 20-plex was a much different beast. I could see the company transforming into that megaplex generation in front of my eyes."
In 2002, when Douglass eventually decided to make the move to Kansas City, she had worked her way up to be the general manager of both AMC's Fashion Valley 18 and Mission Valley 20 in the heart of San Diego. Leaving her hometown was not a move Douglass made lightly, but AMC offered her a dream job as Direct of Field Training.
Douglass has a degree in education and even spent a year teaching junior high school in what turned into a failed attempt to leave AMC. "I kept saying this is going to be my grown up job, I'm going to go be a teacher," Douglass laughed at the memory. However, the movie business is hard to shake and when AMC asked her to take charge of the training programs for all of the company's field level personnel she jumped at the chance.
Upon moving to Kansas City, Douglass helped develop and oversee training and development for all of AMC's front line positions such as concession, usher and box office cashier. As well, she handled manager training programs, leadership development, and maybe most importantly, established all of the business classes that AMC provides to managers, helping them become more well rounded in terms of food and beverage and human resources.
"When I moved to Kansas City we started our general manager training academy so I actually got to teach 25 of those over a two year period," said Douglass. "To have a chance to rewrite a lot of those programs, that was my strength coming in, the educational background and content design and that sort of thing. I got to do that for three years which I loved."
When AMC acquired Loews in 2006 Douglass got to put some of her education and training theories into practice, while at the same time being put in charge of 35 high volume cinemas on the east coast as Director of Operations. "Being able to be that first person that people from Loews encountered in terms of helping to bring them along and make them feel at home at AMC, I felt that was really a privilege and an honor to help do that," she said. "It was great to see those folks flourish and grow with the company. That was also a great experience for me in terms of getting to know different regions of the company."
As a director of operations Douglass had 35 general managers reporting to her and, among other responsibilities, was tasked with delivering on all of the financial, customer satisfaction and engagement goals for her theatres. Being given the autonomy to drive revenue for an entire region gave Douglass the feeling she owned her own piece of the business. It also allowed her to see how what she was doing connected to the rest of AMC as a company.
After two years in the role Douglass was promoted to Vice President of Operations Excellence where she dealt directly with customers, especially ones that had feedback for AMC, both good and bad. "When someone was very upset and they called and asked to speak with the CEO, then that means the phone call was transferred to me," is how she jokingly described the job.
In reality the Operations Excellence group is tasked with taking all of the customer feedback and examining the companies best practices looking for procedures or processes which might be broken or not functioning properly. "Operations Excellence really connects the dots between any breakdown in the guest experience with the operations team," she clarified.
While Douglass was heading up the Operations Excellence group AMC began its dine-in program, offering a full menu of restaurant quality food delivered right to a customer's seat. She managed to partner with both the F&B group and the operations team to develop a service strategy for how the company wanted the dine-in experience to look and feel to their guests.
In 2009, the self-described closet foodie moved into AMC's Food and Beverage group as its vice president. At the time the division had grown stale over the past three decades and was being revamped under George Patterson, the Senior Vice President of Food and Beverage, who joined the company after 20 years at Yum! Brands. "We were bringing in chefs, which is something we hadn't done before, and mixing them up with theatre people like myself," Douglass said. "I was part of the group that built our first couple of bars and I think we just built bar 162 last week."
And naturally, Douglass not only moved into F&B but soon enough helped broaden its purview. Initially she was focused on the traditional side of AMC's concession business; think popcorn, soda and hot dogs. Everything having to do with dine-in, from the menu to planning to chefs, all fell under that.
Now AMC has its own Dine In Theatre Operations group and, no surprise, Douglass is its vice president. "Kind of my joke is that I feel like my training experience, my operations experience, my guest experience in OE, and then my food and beverage has all been boot camp for the job I do now," she said. "You have to pull on all four of those disciplines as the head of dine in to bring all of these things together to grow this concept that is, from a location perspective, a very small part of the company, but still a very important revenue driver and we get bigger and bigger every year in terms of what our dollars mean to the bottom line."
One of the biggest surprises for Douglass upon taking the F&B role was how many AMC guests didn't buy anything at all. Of the minority the company's customers that do sidle up to the concession stand, about 30% of them will buy the same exact items every time they visit a cinema. Meanwhile, a majority head straight to their auditorium without purchasing concessions. "The last time we looked at it when I came into food and beverage six years ago, that roughly equated to the entire attendance for Major League Baseball," Douglass provided some perspective on the number of patrons who walk into an AMC property each year without buying refreshments. "To me, going to the movies, I have to have my Coke and I have to have my popcorn. The fact that they have to have the discipline or the will power to buy nothing, that was shocking to me."
Convincing most of their patrons to buy more than a movie ticket was one of many reasons the company decided to enter the dine-in business back in 2008 when they converted two underperforming theatres to the concept; AMC Buckhead 6 in Atlanta and what is now the AMC Studio 28 outside Kansas City. AMC had always been paying attention to dine-in trends within the cinema industry, like those implemented by Alamo Drafthouse, Studio Movie Grill, Movie Tavern and others. They were also monitoring consumer trends and realized people's needs had changed; they were more pressed for time and didn't always have time to stop and have dinner before going to a movie. Customers wanted more options to be available and AMC felt they could provide them. There was just one problem.
As Douglass recounted, "We were somewhat divided early on about, did we want to have more of a family friendly all ages dine-in concept, because it felt like there were a lot of guests that were running around between soccer games on a Saturday and you want to get a movie in and you don't necessarily have time to stop and get lunch. So we were surprised to see that seemed to be a need or a want from our guests. We also recognized there were some moviegoers that wanted a more adult experience and they wanted a more premium experience and they were willing to pay for it. We had a lot of debate which of those directions to follow. Of course, being us, we did both."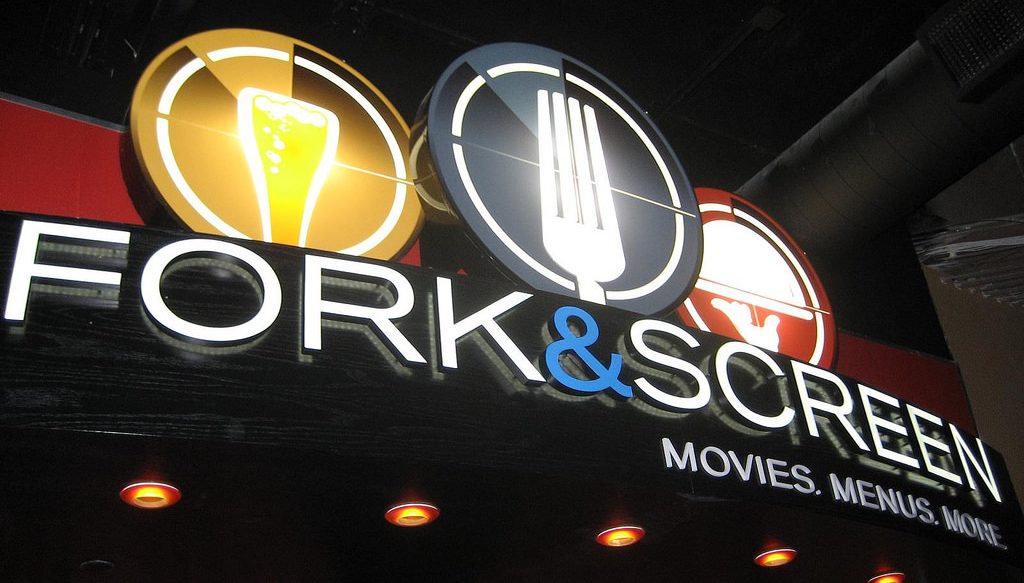 When Douglass says "both" she is referring to the two dine-in concepts AMC launched; Fork & Screen, for all ages, and Cinema Suites, a more upscale offering designed for as a 21+ experience. From its first two trial theatres in 2008, AMC has expanded the offering to 42 cinemas across 29 markets in 19 states. In most instances, the company takes an existing asset and converts it to a dine-in theatre, as they did in Marina Del Rey, California. In a territory that was arguably over-screened during the 1990s, AMC has found itself updating plenty of multiplexes and, in the process, determining if the location might be appropriate for a dine-in experience.
The company's first new build dine-in theatre was its Block 37 location off the Miracle Mile in downtown Chicago. It opened in December of 2015 on the opening day of "Star Wars: The Force Awakens."
"The challenge in any location is communicating to the guests what the offerings are and making them aware, whether you've updated it or built it," said Douglass. "Helping them to understand the experience and hopefully coming prepared to eat. The challenges aren't unique to the type of building."
Indeed, the location, build-out and marketing of a dine-in theatre are but some of the many challenges when implementing the dine-in concept in cinemas. Just as important is a menu filled with reasonably priced, delicious food. That's where Nels Storm comes in as the Senior Director of Culinary. Reporting up through the F&B group he works with two chefs; one focuses on the traditional side of the concessions business and the other is perfecting the dine-in side. He also oversees food quality, food safety and, like any good executive chef, food cost.
"We try to cover the gamut in terms of the quality and the variety and the menu development, but when you move from a concessions business, which is largely pre-packaged foods, or things that are freezer to fryer, it's a much different thing then to leap to scratch cooking from a kitchen and producing in the quantities that we do," Douglass pointed out. "It requires different types of kitchen systems than what you would see in a traditional concession operation. I think we've also done a good job of bringing in folks both from the restaurant industry and from the theatre industry that lead the teams at the theatres to make ensure that we're executing well."
And if there is anyone who can keep AMC's dine-in program firing on all cylinders Douglass has proven after 29 years at the company she's more than capable. "I'm very lucky I've been able to work for the company as long as I have and I've had some great experiences and been exposed to different areas of the business, but I've always been lucky enough I never had to leave the company to have those experiences," she said. "My motto has always been when it stops being fun then it's time to move on to something else and here I sit 29 years later, so I guess that tells you I've been having a good time with AMC."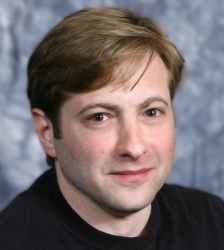 Latest posts by J. Sperling Reich
(see all)