When "Disney's Newsies: The Broadway Musical!" screened in movie theatres in February as a three-day event cinema offering, there was a good chance it would be a financial success for all involved; Disney Theatrical Productions, which produced all aspects of the project, Fathom Events which acted as the distributor, and ultimately exhibitors, who could use the popular Broadway show to boost midweek admissions, increasing both box office and concession revenue.
Sure enough, the event cinema release of "Newsies" in North America was seen by over 210,000 people during its three screenings in upwards of 780 locations, February 16th, 18th and 22nd. It earned USD $3.47 in cumulative box office, making it the second highest grossing title Fathom Events has ever handled. "Newsies" was so successful in cinemas that an additional encore screening has been added for March 4th, 2017. Such a profitable outcome was not a guarantee however, and it took the coordinated efforts of Disney, Fathom and multiple cinema operators to pull it off.
Based on a 1992 Disney film, the Broadway production of "Newsies" opened in March of 2012 to rave reviews and played for over 1,000 performances before closing in August of 2014. Two months later, a national tour of the production kicked off and ran for two years in 65 cities. Along the way the musical picked up a devoted fan base, one which was crucial to the success of "Newsies" as an event cinema release.
The idea to shoot one of Disney's theatrical productions for release in movie theatres stemmed, in part, from ongoing conversations between Fathom Events and Disney. "I think that if you knock gently on the door enough times it will open at the right time," said John Rubey, Fathom's CEO of the lengthy discussions. "Fathoms interest was in the Disney brand and the Disney Broadway titles." In February of 2016 Disney Theatrical Productions finally decided the timing was right to bring one of their musicals to movie theatres and settled on "Newsies" as the title to produce.
"They felt like last year was really the perfect storm of everything coming together in terms of where they were with their tour, who they thought would fit well for casting and timing," said Jamie Woglom, Vice President of Marketing at Fathom. "Disney knew that the idea was something they were interested in for a couple of years, but last year was when all of the elements just fell into place nicely."
Rubey believes what also helped convince Disney senior management to consider an event cinema release was when, "the industry presented the Metropolitan Opera with the Event Cinema Award in recognition of $400 million in box office and 17 million tickets sold in 10 years. I think that was the first time that anybody really saw this is a big business."
One of the major sticking points for Disney was their desire to maintain complete control of the production and the finished product. "Disney doesn't do anything half way. They are known for the quality of what they do and what they put out there," said Woglom. "The only thought on their mind was that if they were going to do it they wanted to make it perfect. You can see that's exactly what they did."
Fathom was perfectly content to cede creative control to Disney since, as Rubey explained, "Where we can really help best is in the marketing and distribution, because we know the theatres that do the best with these types of content."
Production began in September of 2016, as "Newsies" played out its run at the historic Pantages Theatre in Hollywood. A cast of over 40 actors, actresses and dancers took part in a multi-camera shoot; among them were some of the original Broadway cast members, such as Jeremy Jordan, who helped make the show such a hit.
Even before production wrapped, Fathom began working with Disney on implementing a four month marketing campaign and distribution strategy for the eventual release of "Newsies" in cinemas. Woglom's marketing team collaborated with Disney's theatrical marketing group, while Kyle Villella, Fathom's Vice President of Distribution, conferred with the studio's theatrical distribution team.
"It was all about leveraging each others strengths," said Woglom. "Disney Theatrical knew what works when they are going on tour with a show and what resonates with the fans and we knew, just from doing so many cinema events, what types of marketing tactics and timelines make the most sense."
First, a release date had to be chosen that would not only avoid the end-of-year holiday season when audiences are often distracted, but also take Disney's studio release schedule into account. "They were very cognizant to strategically place the timing of this event in between Disney release schedules where it made the most sense," recalled Woglom. "We knew we wanted to go out with three dates. We wanted to make sure that we could get them dates that were close enough to each other so we could build momentum and we knew we wanted a Saturday matinee. We took all those factors into consideration and developed the exact dates together."
After the February dates were selected, both Disney and Fathom set about marketing "Newsies" in a comprehensive campaign that included in-theatre collateral, public relations, promotional giveaways, social media, digital ad buys and grass roots efforts. For instance, Fathom has a large standing inventory of preshow advertising reserved in theatres that play their content and they were able to book a heavy schedule for the "Newsies" trailer. "We also focused a lot on the Broadway community nationwide," Woglom said. "We did a lot of digital ad buys to publications that service that community."
During what Woglom described as a heavy social media campaign, Fathom monitored all of their digital efforts week-to-week to analyze which medium was driving the most traffic and ticket sales. "We saw that we were getting huge results from the social campaign that was running. So, that was where we focused a lot of our efforts," she stated.
The benefit of the social media and digital marketing campaigns was the near instantaneous feedback Disney and Fathom were able to garner, allowing them to tweak their efforts when necessary. "Our number one goal is always going to be to sell tickets," said Woglom. "But just driving engagement and interest is also very important to us, because word of mouth is constantly one of the top three drivers of awareness for our events. Knowing that we are getting engagement on social and being able to monitor what the reach is on every post that we put out, and how people are responding, how many people are responding, what they're saying, all in real time, is just so helpful."
It also helped that Disney provided a lot of marketing material to work with in the way of content, such as clips, stills and other creative. Fathom used these assets for turn-key marketing campaign creative which exhibitors used to help promote their three nights of "Newsies" screenings. "In this case we had so much content that we were able to continue feeding our exhibitors with different types of content, so that really kept the message going on the exhibitors level," Woglom said in referring to the content strategy used for the release.
Marketing efforts extended to offline platforms as well, with Disney and Fathom hitting local performing arts centers, coffee shops, universities and even libraries in key markets. In specific cities, ticket giveaways were conducted on local radio stations to drive awareness. At the same time, Jordan and other members of the cast were conducting interviews for national PR placement across numerous publications and broadcast outlets.
Maybe the biggest resource in spreading the word about the event cinema release of "Newsies" was the musicals many fans. In a statement released by Disney Theatrical Productions after the screenings packed movie theatres, the company's President, Thomas Schumacher, said, "'Newsies has always been propelled by the show's extraordinarily passionate fan base and the success of the latest chapter in its journey is thanks to them."
Woglom agreed, "The fan base for that title is very passionate. I think that's one of the reasons why Disney chose this title to start with. They are really tapping into them, giving them some really good behind the scenes pieces of content and access to what they were going to see."
It is thanks to all these efforts that audiences turned up for one of the three screenings in large numbers. In fact, on two of the three days "Newsies" was shown it had the highest per screen gross of any title playing in a commercial cinema, despite having only a single showtime.
And while Rubey stressed Disney's primary motivation was producing "Newsies" for an event cinema release, he understands the studio might very well distribute the production in ancillary markets such as home video or premium cable. There are currently no plans for such a release. Nor are there any plans to shoot and distribute other Disney theatrical shows through event cinema releases, though not for lack of any desire on Fathom's part. "We're interested in whatever they're interested in," was Rubey's tactful response when asked which of Disney's other musicals he would like to bring to movie theatres.
"There's definitely a lot to choose from," Woglom added. "Anything that Disney sets out to do, you know that they're going to do it well so we're excited for whatever the project is we'll be working on in the future."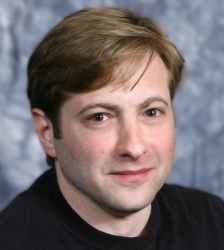 Latest posts by J. Sperling Reich
(see all)