This story first appeared in a special CineEurope 2016 issue of BoxOffice magazine. To subscribe to the magazine click here.
Name: David King
Company: IMAX
Title: Vice President, Distribution EMEA & Film Development
Country: United Kingdom
David King has a vivid memory of being three-years-old and crying as the end credits for "E.T. the Extra-Terrestrial" began to roll. According to his parents, King didn't want E.T. to leave Earth and was very much caught up in the story. King also attributes his teary eyed moment to not wanting the film to end.
Maybe that's why King got into the movie business, working first for Australia's largest exhibitor Greater Union (now Event Cinemas). King credits Bill McDermid, who first hired him to be a film buyer at the circuit in 2000, for providing a terrific foundation on which to build a career. "He was, and still is, a hugely respected executive and always took the time to encourage and educate me about exhibition and, importantly, always considered things from the distributor's point of view as well," says King of McDermid. "I'll always be grateful to Bill for the 'training'."
In 2004 King moved to the United Kingdom for a position at UIP and in 2007 moved to Paramount Pictures where he worked his way up to deputy sales director. These days King is a rising star at IMAX, where he is the Vice President, Distribution EMEA & Film Development. Like his title suggests, King oversees all of IMAX's distribution needs for Europe, the Middle East and Africa, while at the same time maintaining a development role by helping IMAX Entertainment CEO Greg Foster choose titles to put into the company's proprietary and popular big screen format.
At IMAX King says, Phil Groves, Senior Vice President at IMAX Corp. has taught him a great deal since he joined the company almost four years ago. "Fortunately Phil has a wicked sense of humour and we chat as much about our own common interests in cartooning and music, as much as we enjoy our mutual disinterest in sports," he says.
King enjoys the fact that his role at IMAX puts him in a rather unique place within the film distribution "food chain", allowing him to utilize his experience as both an exhibitor and distributor to try consider what he would expect in different circumstances. "This way I can then ensure that both parties with whom we liaise with on every IMAX release are satisfied with the film slate and movies playing in our screens," he explains. "With more IMAX releases than ever before, and 38 separate markets within EMEA and Russia, trying to get the widest play for each film can be time consuming."
Another obstacle King faces, along with the entire motion picture industry, is luring audiences away from their home cinemas, not to mention the many other leisure and entertainment activities on offer. "Giving audiences an experience that can't be replicated is something I strongly believe in," states King. "It's also something we do at IMAX, in everything from the cinemas we build to the movies we release in our format. Technology and innovation in entertainment are obviously exciting and can add to the cinema experience, but the same level of development in home entertainment, gaming and virtual reality is also something we will need to contend with."
The good news, according to King, is that "We are in a time where the very best filmmakers are working in genres and formats historically dismissed as unimportant or 'fast food' cinema. When people like the Russo brothers or Christopher Nolan are delivering movies such as 'Captain America: Civil War' or 'The Dark Knight' trilogy, it's a great time to be a geek."
No doubt King will be looking forward to finding out what upcoming releases he can geek-out over while attending CineEurope 2016 in Barcelona.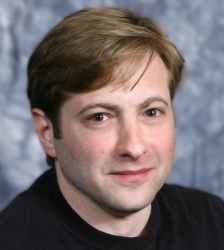 Latest posts by J. Sperling Reich
(see all)