This weekend's North American debut of Twentieth Century Fox's "Maze Runner" is enabling Barco to move forward with a new product initiative it first announced at CinemaCon earlier this year.
Barco Escape is an immersive offering being developed by the digital cinema projector manufacturer that wraps three screens around the audience to provide a 270 degree viewing experience. The additional screens are placed to the left and right of the main screen, extending the projection surface and placing images in an audience's peripheral vision.
The existing visuals of a film shown in the Barco Escape format are not simply extended onto these new screens. Supplemental visual material must be created specifically for the increased projection areas. That is exactly what Barco had to do for the Escape version of "Maze Runner" showing in the following five specially equipped theatres throughout the United States:
Cinemark 18 & XD at the Promenade at Howard Hughes Center in Los Angeles
Cinemark Paradise 24 & XD in Davie, Florida
Cinemark Legacy Theatre & XD in Plano, Texas
Cinemark at Seven Bridges and Imax in Woodridge, Illinois
Cinemark's Redwood Downtown & XD in Redwood City, California
It should be noted that each of these cinemas is owned and operated by Cinemark, a circuit that is predominantly outfitted with Barco projectors. Presumably the exhibitor is assisting the manufacturer with what Barco's CinemaVangelist Ted Schilowitz refers to as a "technology experiment".
"We are in probably phase two of something that is not completed yet," Schilowitz told an audience of press and industry professionals last Wednesday evening before a special screening of the Escape version of "Maze Runner" at the Cinemark 18 in Los Angeles. "You are all getting a sneak peek of something behind the curtain. We have been working with a visual effects team on helping create some of this movie magic."
Schilowitz was referring to the seven minutes of "Maze Runner" that are projected in the Barco Escape format. This includes the opening scene and an action sequence in the middle of the film. The vfx team will continue to work on "Maze Runner" so that in two or three months an estimated 16 to 18 minutes of the movie will be in the Escape format.
Production of content in the Escape format is one of the biggest hurdles to its adoption. The team working on "Maze Runner" utilized a gaming engine from Crytek a German video game company, to speed up the production of the computer generated visuals. The images were then rendered by supercomputers from Devil & Demon, a company for which Schilowitz serves as president.
Inside a cinema the Barco Escape format requires that an existing theatre be retrofitted not only with two additional screens on the left and right walls, but also with two additional projectors. Unlike the projector that throws the original movie onto the main screen from a projection booth in the back of an auditorium, the two ancillary projectors are mounted to the ceiling inside an auditorium and cast images across the theatre to a screen on the opposite wall.
This is a fairly extensive modification noticeable the moment one enters an auditorium and is by no means cheap. Since the two added projectors are so close to the audience they must be muffled by surrounding them with a hush box making the need for proper ventilation even more important. There is also the cost of two screens which may need to be specially made to fit the shape of a given auditorium. Then each of those screens needs to be safely hung, which sometimes calls for the use of expensive trusses. And that doesn't even take into consideration any cable and wiring that may need to occur. The overall cost of retrofits will likely decline with any scale of the install base.
If Escape provides moviegoers with a superior viewing experience that allows theatre operators to charge higher ticket prices then the price tag of installing the offering may be mute. It is still too early to know whether audiences will be attracted to the format and there are too many unspecified variables to make longterm predictions.
Certainly, selecting "Maze Runner" as the first title to be shown in Escape was an ideal choice for a couple of reasons. First, it is a CG-heavy movie set in what appears to be the near-future wherein the characters spend a great deal of time running through a maze of high concrete walls. There were moments where one could just as easily have been watching a live-action version of the 1993 video game "Doom". The side screens worked perfectly to create the illusion that we were trapped in the maze alongside our heroes. Secondly, "Maze Runner" is being released by Fox where Schilowitz is a consultant. He was able to act as a bridge between all of the various stake holders involved in pulling off such an experiment.
Those two points should not be understated. Technology and new exhibition formats are only successful when used with suitable material to advance or enhance the narrative. Despite being early on in its development and no matter its hastened execution, Escape did just that for "Maze Runner".
[youtube width="560″ height="315″]https://www.youtube.com/watch?v=Hqbn-7kJGj0[/youtube]
What the modest success of Escape's trial with "Maze Runner" makes clear is that it takes certain level of knowledge, skill and craft to achieve properly. Shooting and producing a movies for three screens is entirely different than doing so for a single screen. Filmmakers will have to learn a new language for presenting imagery in their movies, just as they have to when working in 3D and/or high frame rate.
Likewise, moviegoers will have to adapt to this new language and become more comfortable with how to view movies on three different screens at the same time. Viewing a film in the Escape format is not the same as simply watching it on a much bigger visual plain such as with IMAX or Cinerama. Much like the first few minutes of a performance of Shakespeare, when one's ears become tuned to the language and speech of Early Modern English, audiences need to acclimate themselves to movies projected in the Escape format.
The advance screening of "Maze Runner" in Los Angeles also put on display two drawbacks of Escape that Barco will no doubt be working on. Because a majority of the film was shown without images appearing on the additional screens, the white surface of the two side screens reflected light from the main screen back into the theatre which was noticeable enough to be distracting at times. This may be a side-effect of trying to retrofit an existing auditorium for Escape. If the walls leading up to the screen were tapered then the side screens might not extend at such severe right angles. Most current auditoriums however are logically shaped square boxes with perpendicular walls. Similarly, the stadium seating found in modern multiplexes becomes a liability since the front rows of the theatre fall below the side screens providing even less advantageous sight-lines than they do with just a traditional single screen.
But such issues are precisely why Barco is willing to pilot Escape so openly; it's the best way to flesh them out and discover what actually works. As Schilowitz explained, "We are really letting people from a public standpoint take a look at what we're working on here, which is unusual and intriguing in and of itself, to invite public audiences to give us feedback this early in the project."
If you've seen a screening of "Maze Runner" in Barco Escape, or simply have thoughts on the format, please let us know what you think in the comments section of this post.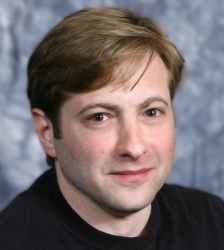 Latest posts by J. Sperling Reich
(see all)