It turns out you don't need a tricked out DeLorean to venture back in time, at least not to the middle of the 20th Century. All it requires is one step inside the Neutra VDL Studio and Residences in the Silver Lake neighborhood of Los Angeles. That's where the East Bloc*Busters screening was held last Friday evening.
Just inside the front door of the house visitors are greeted by one of the most famous specimens of East German design; Peter Ghyczy's Garden Egg Chair from 1968. It sits behind a glass cubicle in a nook alongside a 1969 phone directory from East Berlin and a vintage push button telephone.
A flight of stairs lead up to the main living quarters on the first floor of the house, which once served as the home and studio of famed modernist architect Richard Neutra. An unbroken line of of large windows stretches around the living room and dining area providing an unobstructed view of Silver Lake Reservoir and giving one the feeling the house extends past its physical boundaries. Hanging off the Frigidaire in the kitchen are a handful of picture postcards of distant landmarks such as the Salute Hotel in Kiev. In the living room a shortwave radio is ready to tune in signals from foreign lands and a coffee table is scattered with East German fashion magazines from the 1960's and 70's.
Down a window lined hallway are a pair of bedrooms, one of which had belonged to Neutra himself and is where he did a lot of his drafting. Spread out on the bed is an open suitcase and an Interflug Airline pilot uniform. In the solarium on the second floor a closet hides a stash of various surveillance equipment used bye East German Stasi to spy on unknowing citizens. The balcony gardens just outside the solarium windows float on top of a flat roof that can be flooded to form a reflecting pool.
Most of these artifacts and many others aren't usually found at the Neutra VDL Studio and Residences. They are actually a part of a special exhibit titled "Competing Utopias". The installation, which opened on July 13th and runs through September 13th, required the removal of all the homes original historic objects to make way for Cold War pieces from the Wende Museum's collection.
The improbable "mash-up" of mid-century modernism from the west and Cold War design from the east was organized by both Neutra VDL and Wende. The latter institution is an archive and museum whose objective is to preserve cultural artifacts from Cold War-era Eastern Europe and the Soviet Union.
As an extension of "Competing Utopias" two special programs of 16mm and 8mm films from the Wende Museum's collection were screened in August and September. The Wende's audiovisual material consists of 3000 short films, mostly from East Germany, as well as 20,000 slides and numerous audio recordings. The content is comprised of educational films designed for school or vocational use, documentaries, home movies, sports films, tourist travelogues and an exemplary collection of animation. Some of the films are derived from movies shown theatrically. In such instances the 16mm or 8mm reels are copies of 35mm originals. When the films aren't completely silent, they are often in German.
Kate Dollenmayer, the Wende's audiovisual archivist, is tasked with overseeing this priceless trove of celluloid treasures. She spends most of her time preserving, and cataloguing the film, visual and audio material in the Wende collection, making it accessible to museum visitors and scholars. "One of the ways that I'm trying accomplish this is through showing the films actually on film as well as digitizing them," Dollenmayer explained. The project to digitize the collection is ongoing and partially funded by the Institute for Museum and Library Services.
Dollenmayer showed up to the second East Bloc*Busters event lugging tote bags stuffed with reels of 16mm and 8mm prints. When she wasn't stating the names of each film with perfect German pronunciation or translating German dialogue into English for the audience, she was running the films from the back of a room which was once the offices of Neutra's architecture firm. At one point I spied Dollenmayer simultaneously rewind a 16mm print on a Kodak Ektagrapihc projector, thread an 8mm film into an Elmo projector, while discussing the color stability of Kodachrome film stock from the 1960s versus that of East Germany's ORWO.
For the September 5th screening Dollenmayer included selections such as "Der Wasserfrosch" ("The Water Frog") a 1973 nature study of a frog on 16mm, "Die Erschaffung der Welt: Die Pflanzen" ("The Creation of the World: Plants") an animated short from 1957 on 8mm and a 1979 educational film from the series Berufe I'm Bild (Careers in Pictures) titled "Facharbeiter für Textiltechnik" ("Technician for Textile Manufacture") on 16mm.
My personal favorite may have been the home movies taken by a family visiting East Berlin in what appeared to be the 1960s. Seeing 8mm footage of everyday life and tourist destinations was fascinating. There were quick shots of fellow travelers and family members mugging for the camera while boating down the Spree, proving not much has changed in modern times when it comes to how people behave when filmed candidly. What was markedly different is that each shot was relatively short compared to the endless long takes modern video equipment (and camera phones) allow. In fact, seeing how images of the Brandenburg Gate and Checkpoint Charlie were captured, the travelers' interest in the west was as strong then as our own (past and present) curiosity about life behind the Iron Curtain.
On their website the Wende states that part of their mission is to foster a "broad understanding of the period and its enduring legacy". The subtle details found in home movies such as the one Dollenmayer screened during the second East Bloc*Busters demonstrate how successful they are in achieving this goal.
"For me this is a nice opportunity to show these films in an environment that is native to their origin in a way," said Dollenmayer. "They are small format films meant to be shown in small rooms either in a home or a class room and so that's how I'm going to be able to show them tonight. It's nice to be able to round out the feeling of domesticity and see these objects in situ in this house."
So Dollenmayer not only speaks German, has a working knowledge of historic film stocks and knows the etymology of the ORWO company name (the manufacturer was based in Wolfen, Germany and thus was dubbed "ORiginal WOlfen"), but she can also properly use the term "in situ". I'd say the Wende has seriously found the perfect audiovisual archivist.
Indeed, Dollenmayer is quite correct on many levels. There is something about seeing these films properly projected on actual film in a perfectly relevant setting; the click of the projector in the back of the room, a flickering imperfect image thrown onto a white screen. It reminds one how dependent filmmaking and cinema is on the manipulation of light. Much as the mid-century landmark Neutra VDL Studio and Residences stresses the architect's own tendency to manipulate light through the use of glass walls, mirrors and reflections.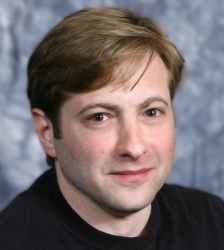 Latest posts by J. Sperling Reich
(see all)