Summer break is shortly coming to an end for school children in the United States. Very soon this year's trips to the beach, summer camp and the county fair will be but memories. For my two daughters, aged eight and nine (and-a-half) years old, that means it's time for the annual August visit with their grandparents in San Mateo, California.
This time around my daughters are particularly looking forward to spending a week at "pony camp" where they will ride, groom and care for their very own (though borrowed) pony. As fun as miniature equine can be, my daughters always look forward to one specific activity when visiting their grandparents; a trip to Powell's Sweet Shoppe in Burlingame.
Powell's is a franchised candy store with retail stores in 14 California locations as well as single outlets in both Idaho and Oregon. Powell's isn't geared just toward kids. Each store is designed to stir up emotions in every adult that sets foot inside. Dozens of bins filled with every sweet treat or candy imaginable are meant to create the perfect sense of nostalgia as one searches for their favorite candy from when they were a youngster.
As the company's website explains:
Everyone has an extremely vivid and pleasant memory of where they went as a child to get their favorite candy – whether it was the corner store or their Grandma's candy dish. Powell's Sweet Shoppes are a nostalgic re-creation of that classic and bygone era. On the surface we sell ice cream and sweets, but you don't have to stand in the Shoppe too long before you realize that what we really offer are memories.
Upon arriving this week I noticed a hand painted sign on Powell's window promoting an "Outdoor movie night". Needless to say, I was curious and went inside to learn more.
Sure enough, every Thursday this summer the Powell's in Burlingame turns the parking lot behind their store into an impromptu and makeshift cinema. So far they have screened movies such as "Back to the Future", "Goonies" and "Harry Potter".
Franchise owner Julia Murray is responsible for planning and running Powell's movie nights. She has been promoting them through the Burlingame Chamber of Commerce, Facebook, Instagram and her customer email list. Murray reports roughly 70 people are turning out for each screening. This may not sound like a lot, but considering the size of the parking lot the venue might get a little uncomfortable if attendance were to double.
Also keep in mind that that the Powell's is in the heavily trafficked Burlingame business district. The large crowd gathered by the store each Thursday evening is great way of drawing the attention of passersby, helping build awareness of the store's existence.
Murray rents a projector for each screening and shows the films on a large inflatable screen. The audience brings their own beach chairs to sit in. Naturally, popcorn and candy are offered for sale.
Movies have long been a part of the Powell's experience… well, at least one specific movie. On any given day the 1971 release "Willy Wonka & the Chocolate Factory" can be found playing in a continues loop on a monitor buried in a wall of candy. More often than not preschoolers occupy the three red velvet theatre seats that makeup the ad hoc cinema.
I can't imagine a better place to experience all Willy Wonka has to offer than a sweet shop surrounded by endless piles of candy, except of course, a cinema… surrounded by endless piles of candy.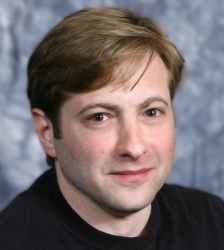 Latest posts by J. Sperling Reich
(see all)