Every so often an incident occurs that serves to remind us just how many tasks need to be completed in the workflow leading up to the release of a motion picture. Tasks such as running your marketing material past the proper trade groups for approval.
Yesterday I took note that my never-ending Twitter feed was populated by numerous uploads of the same image. Over the course of a few hours the image popped up in tweets from industry professionals I follow on Twitter a dozen or more times. The picture featuring a scantily clad woman was hard to avoid noticing as it scrolled by in Twitter's desktop app time and again. As it turns out, the picture was actually one of the posters (pictured here) for "Sin City: A Dame To Kill For", which according to Deadline, had been rejected by the Motion Picture Association of America (MPAA).
In case you weren't aware, or had forgotten, the Advertising Administration of the MPAA must review all the collateral marketing material used to spread the word (i.e. advertise) any film that has been or will be rated by the Classification and Rating Administration (CARA). Or in the MPAA's own words, the Advertising Administration must review:
"…any material in any medium that is intended primarily to promote the exhibition, performance or sale of copies of the motion picture to the public and that is directed primarily to or for which a significant number of viewers are consumers in the United States."
This includes a list of materials such as trailers, clips and footage, press kits, radio spots, Internet banner ads, billboards and, naturally, posters. And that's just a fraction of a very long list. According to the National Association of Theatre Owners (NATO), the MPAA reviews "more than 60,000 pieces of marketing each year".
So while most of us are zapping through commercials on our DVR and ignoring banner ads on our favorite websites, there is someone at the MPAA whose job it is to pay very close attention to movie marketing material. In regards to the material for "Sin City: A Dame To Kill For", the MPAA nixed a risqué poster depicting actress Eva Green shown in a sheer white dress that reveals just enough, though apparently too much, of what lies beneath. According to Deadline (and several other outlets) the MPAA's approval was withheld "for nudity — curve of under breast and dark nipple/areola circle visible through sheer gown."
The film is a sequel to "Sin City", the 2005 movie based on Frank Miller's popular graphic novels. Key cast members from the original are returning for the sequel including , Jessica Alba, Rosario Dawson, Mickey Rourke and Bruce Willis. "Sin City: A Dame To Kill For" opens in North America on August 22nd of this year.
Of course, if you weren't aware of the movie's U.S. release date, or even its existence, you certainly are now. Meaning, the Weinstein Company, which owns Dimension Films – the distributor of "Sin City: A Dame To Kill For" – is a master at turning any MPAA rebuff into a promotional opportunity. In this instance, it was far too easy since Weinstein Co. circulated the vetoed poster via the Internet where, thanks to news stories such as this, it will reach far more potential moviegoers then ever would have seen it displayed at multiplexes.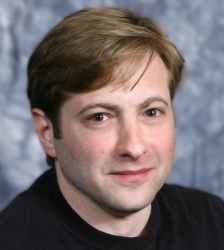 Latest posts by J. Sperling Reich
(see all)