Few annual events have chronicled the movie industry's transition from 35mm film to digital cinema quite like the Sundance Film Festival. There were times during this year's festival, which concluded over the weekend, where it was hard not to be reminded of the art form's long journey from an analog to a digital medium.
When I first started attending Sundance before the turn of the millennium, just about every official selection was shot on 16mm or 35mm film negative and projected using film prints. It was rare to see an entry shot on Beta or high-def video and even rarer to see them projected that way. When the festival did manage to screen titles produced on video they were usually documentaries.
By 2003 the tide had begun to turn as low-budget independent films, both dramatic and documentaries, arrived at the festival either having been shot on Beta SP and HD Cam and were projected using high-def projectors. In those days, there was a stark contrast between entries shot on film versus video. This disparity between the formats was only made all the more obvious upon being projected. Selections shown on film prints were crisp and clear, whereas poor compression aliasing and muted colors often betrayed video when it was being used as a source.
But if time heals all wounds, it also improves technology, at least that which is used for film production. As we neared the end of the "aughts" the quality of entries shot digitally had improved tremendously. It was around this time that Sundance stopped including the medium in which a film was captured, simply denoting whether a title was color or black and white. This was also around the time that the festival began utilizing digital cinema equipment capable of meeting DCI requirements.
In 2008, Sundance premiered "U2 3D", a 3D concert film featuring the popular rock group, on a giant 45 foot screen. "Cane Toads", a 3D documentary about an Australian amphibian infestation, was screened in 2010 and by 2012 Sundance was screening a majority of its selections digitally.
Of course, this year the festival is mostly, if not entirely, relying on digital projection. Sundance may have no choice, given the increasing difficulty of actually being able to strike a 35mm release print. Filmmakers have the same issue securing 16 and 35 mm negative when it comes to physical production, forcing them to shoot digitally. However, camera companies such as Red, Arri and Canon have been manufacturing equipment that rivals 35mm when it comes to image quality.
During this year's festival one or two Sundance selections that were shot entirely on film used their original celluloid format as an attribute and boasted about it in their press notes. One such film was "Happy Christmas", a dramatic competition entry shot on 16mm and directed by Joe Swanberg and starring Anna Kendrick, Lena Dunham, Melanie Lynskey and Mark Webber.
Somewhere mid-way through the movie a "hair" appears in the lower right hand corner of the screen. This imperfection is synonymous with a movie that is shot or projected on 16mm or 35mm and in which a thin sliver of the film's emulsion, resembling a hair, gets scraped off and trapped in the gate of the camera or projector. In "Happy Christmas" it was obvious the blemish occurred during filming.
In a theatre filled with 300 attendees, I may have been the only viewer that spotted and took note of the hair as it floated by the few seconds it was on screen. In its end credits "Happy Christmas" gave two additional nods to its analog roots. The first was a subtle confirmation that filmmaking has entered the digital age. One of the credit read:
Processing and digital dailies by Alpha Cine Labs, Seattle (RIP)
Alpha Cine Labs was a motion picture film lab based in Seattle which closed its doors in September of 2013. The RIP in the credits is offered as condolences to the companies shuttering.
Finally, one of the last cards to appear in the "Happy Christmas" end credits declares:
Filmed on Kodak motion picture film
A phrase that rarely appeared at this year's Sundance Film Festival.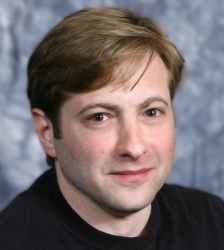 Latest posts by J. Sperling Reich
(see all)