[vimeo]http://vimeo.com/84063773[/vimeo]
Before every film screened at the Sundance Film Festival, presently taking place in Park City, Utah, a pre-roll trailer is shown. This has been going for as long as anyone can remember. The trailers, often referred to as "festival bumpers", are crafted by noteworthy filmmakers, artists or designers and are different each year.
This year the festival turned to Klip Collective, a Philadelphia based production house that has gained a reputation for using technology and various forms of media to create immersive and unique visual experiences. In 2013, Klip Collective created a piece that appeared in the New Frontier section of the festival titled "What's He Building In There". Based on a Tom Waits song of the same name, the work was a story about a man inside the building that was projection-mapped onto the front of a festival venue.
The project impressed Sundance officials so much that they were commissioned Klip to create a trailer for the 2014 festival and invited them to bring another project as part of the New Frontier section.
The 2014 Sundance Film Festival trailer (which can be seen above) was meant to mark the 30th anniversary of the event. Like last year's project, it is a 3D-pixel-mapped work that is projected onto Park City's Egyptian Theatre, one of the festival's primary cinemas. The piece prominently features clips from some of the films that have shown at the festival over the years, including "Beasts of the Southern Wild", "Clerks", "Little Miss Sunshine" and "Reservoir Dogs".
The project would not have been possible without the use of modern technology, specifically digital cinema. Two Barco projectors were set up across the street from the Egyptian, which is located on Main Street in Park City, and aligned for pixel precision. The following is a behind the scenes video of how the piece was projected onto the cinema when Klip shot the trailer on July 17, 2013:
[vimeo]https://vimeo.com/79198425[/vimeo]
One thing about these festival trailers is that for those of us who see upwards of 30 or 40 movies during Sundance, they can become mildly annoying. After seeing the same trailer so many times during the 10 day span of the event, its music and images begin to permanently inhabit our heads even when not watching films. One idea to alleviate such trailer fatigue this year might be to run a contest during the festival; anyone who can name all of the dozens of movies represented or referenced in the bumper wins or is entered into some sort of raffle. Just a thought.
Klip Collective also uses the exterior of the Egyptian as the screen for their New Frontier entry "What's He Projecting In There". The work, meant to honor the history of cinema, is a 3D-pixel-mapped projection that rips the walls of the cinema away to reveal the story of its projectionist. The piece is being projected onto the Egyptian every evening during the festival from 5:30 pm to 10:00 pm. Here is an excerpt from the piece, as shown during Sundance:
[vimeo]https://vimeo.com/84408022[/vimeo]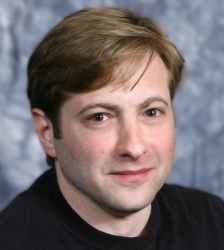 Latest posts by J. Sperling Reich
(see all)