As one of the early and most vocal advocates for digital 3D, it should come as no surprise that Jeffrey Katzenberg is also interested in adding dimension to audio soundtracks. On Thursday Katzenberg, the head of Dreamworks Animation, was on hand at a press event in Los Angeles to announce an agreement to distribute the studios next 15 titles with Barco Auro 11.1 3D sound mixes. The first film to be released under the new agreement will be "Rise of the Guardians" on November 21st.
Auro is an 11.1 sound format that Barco has been helping develop for the past several years. Based on audio technology from Auro Technologies, the format places audio in three separate layers placing sounds in traditional surround speakers, a set of height speakers and speakers mounted overhead on the ceiling. Rather than being track based, Auro allows for sounds to be placed as objects within an auditorium.
"At Dreamworks we really pride ourselves on using the finest state of the art technology, first to put in the hands of our storytellers in order to create the best possible experience for moviegoers and then look to the best possible technology for the presentation," Katzenberg explained. "It's why we're here partnering with Barco so we can provide 3D sound that is every bit as spectacular as the 3D images."
Before selecting Auro, Dreamworks Animation did their due diligence and investigated some of the emerging 3D formats making their way to market, such as Dolby's Atmos and Iosono. "It became very clear to us that Barco's Auro 11.1 3D audio format is actually the best," said Katzenberg. "We believe they are going to be leaders int he market and we believe they are going to create a very valuable experience for our customers and also what will be a very attractive opportunity for our partners in exhibition."
When pressed about a direct comparison to Atmos, Katzenberg said with a tinge of humor. "This is better." He quickly turned more serious to mention another key factor in Dreamworks Animation's selection of Auro. "I can not emphasize enough that the Barco financial proposition for the exhibitors is far more attractive, far more doable and far more practical. The ability that this will be able to roll out worldwide and be something that is affordable is critical. This is the highest quality and affordability. You can not separate those two."
Katzenberg also reported that creating the Auro 11.1 mix fit right into the existing workflow adding roughly two days to the final sound mix. The only real trepidation Katzenberg admitted having about adding 3D audio to films is that the technology might be applied improperly. This is a problem he saw firsthand as audiences first discovered digital 3D and studios began exploiting the technology, literally and figuratively. "There are people that used 3D as a gimmick and really did a terrible disservice to it and set it back," Katzenberg admitted. "We're sort of now re-earning the respect and the confidence of the audience that there is a way to experience 3D that is actually something unique and special. This is now, 'here we go again', because used effectively and creatively in the right way, naturally to create enhanced sound this is a fantastic opportunity. I am certain that there will be some that will use it as a gimmick and overuse it and probably abuse it. I hope that the shortsightedness is less shortsighted this time than last time."
Also on hand to discuss how Auro 11.1 works was Brian Claypool, Barco's Senior Director of Strategic Business Development. "The decoding and the extraction of the 11.1 soundtrack is actually done in the existing media blocks that are already in the market place," he said, citing DCI's watermarking requirements as the reason for this. "The only additional piece of hardware that you have to have in the booth itself is a 16 channel audio processor. Most booths only have support for 8 channels. Decoding of the 11.1 itself is simply a piece of firmware that goes inside the existing media blocks."
Of course, theatres will also have to add additional height and overhead speakers to playback the extra channels, though tracks for the hearing and visually impaired will playback normally for any theatre equipped for HI and VI.
To demonstrate the format, Barco showed a reel with side-by-side of examples of 5.1 versus 11.1 audio, as well as a seven minute clip of from "Rise of the Guardians". When placed so closely together there was no denying that the 11.1 audio sounded much better. With the added element of height the human brain can easily be swayed into thinking it is actually in the middle of a forest or on an airport runway. Whether the enhancement will be as pronounced for moviegoers without the benefit of side-by-side comparisons will be interesting to see as the technology gets installed in theatres.
Presently, Barco has 50 Auro 11.1 3D screens deployed around the world. Dolby has about 24 Atmos screens in the U.S., 8 in Europe and plans to have 100 when "The Hobbit" is released later this year.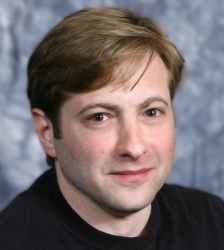 Latest posts by J. Sperling Reich
(see all)