If you were wondering what kind of impact the recent rash of 3D film releases has had on the general public, you need look no further than Fluevog Shoes. The Canadian shoe designer John Fluevog, whose footwear is often deemed trend setting, sent out a promotional email on Friday in which the subject line read – John Fluevog Thinks You're Awesome In 3D.
Though messages like this that land in my inbox are automatically labeled "Bacon" and are often summarily deleted after a cursory inspection, I actually clicked on this one. I admit after reading the subject I was curious as to how a Canadian shoe designer whose shoes are sold in tiny, upscale boutiques could have anything to do with 3D.
The email contained the graphic above announcing an anniversary sale and was accompanies by the following text:
People said it couldn't be done… launching a shoe company built on unique design and genuine appreciation, nurturing and developing it for 40 years, and then offering it in 3D! Well, consider that bridge crossed, that stone overturned and that box ticked. Welcome to the 40th Annual John Fluevog Thinks You're Awesome Sale in 3D!*
The asterisk at the end of the last sentence is defined at the bottom of the email with the disclaimer "3D available only in store". Keep in mind, this is coming from the same designer who emblazons angels on the soles of his shoes and whose company's tag line is "Unique Soles For Unique Souls".
Fluevog Shoes, and most likely Fluevog himself, are known for this type of informal, humorous approach that sometimes play off of current popular culture. The email goes on to explain that Fluevog has "done his best to put all the shoes that you think are Awesome on Sale (the ones you didn't care for are still full price)".
Working in motion picture exhibition and distribution it's easy to take 3D for granted or forget that 99.9% of the world hasn't been following its development for the past 10 years. Many moviegoers still have questions about the format and some are completely uneducated about it. This was the case at a recent showing of "Despicable Me" when the person seated next to me didn't know they needed 3D glasses to see the film.
Emails like Fluevog's are a good reminder that a majority of the world's population have only recently become aware of 3D films. People are beginning to see 3D movies go beyond sci-fi popcorn flicks filled with blue cat people. At the same time, Fluevog's satirical promotional piece could also be taken as a warning sign the public is so over-saturated with 3D offerings that they've become a bit of a joke.
What did you think of Fluevog Shoes promotional email?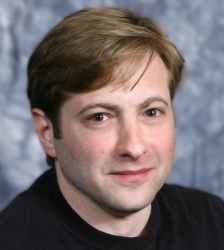 Latest posts by J. Sperling Reich
(see all)