When one thinks of Panavision, what immediately comes to mind is all of the motion picture camera systems they have manufactured since the mid-1950s, ubiquitous on the sets of countless hit movies and television shows. The thought of 3D, be it digital or on 35mm, is probably the last thing any industry professional would ever associate with Panavision. Well, that's all about to change and I'll explain why.
On Friday of last week, the European Digital Cinema Forum (EDCF) was kind enough to let me tag along on their annual pre-ShoWest industry tour through Los Angeles. When we arrived at Panavision I was a little baffled why a group of exhibitors and digital cinema manufacturers would want to visit a company better known for what happens on a movie set rather than a movie theatre. After a quick tour of their Woodland Hills, California facility, the group was ushered into a screening room and it became immediately obvious why were there.
We were greeted by John Galt, Panavision's Senior Vice President of Advanced Digital Imaging, who gave us a very brief PowerPoint presentation on a project he'd been working on since the middle of 2008. Turns out while the media was busy hounding Panavision with stories about how labor strikes and production slowdowns had adversely affected the company, they have quietly been working on a 3D system for both film and digital projection. That would explain the reusable 3D glasses we were handed.
The 3D solution uses a patent pending spectral comb filtering process that creates two spectral bands of light; one for the right eye and one for the left eye. Each band contains all of the spectral content necessary to generate the sensation of color to the human eye. What is sure to bring some attention to the system is that it can be used with a white screen.
The solution was developed over the course of two-and-a-half-years, in a joint venture between Panavision, Omega Optical, a company based in Brattleboro, Vermont that specializes in high-end optical filters, and Deluxe, the motion picture lab. Panavision and Omega have a longstanding relationship having worked on some of the filters for Panavision's camera's and lenses. Of course, Deluxe, brings both technology experience and a deep understanding of movie distribution and exhibition.
We were told that we were one of the first groups to receive a demonstration of the technology. A few studios saw the system earlier in the week.
The 3D system works by placing a special filter in between the light source and the lens. Viewers wear a pair of glasses with special lenses that interpret the spectral content in each of the two bands reaching the eye. With no need for a silver screen the system might be compared to Dolby's digital 3D solution both operationally and technologically. But actually there are some huge differences. For instance, unlike Dolby's offering, Panavision's solution also works with 35mm film using an over/under method.
For film-based 3D each frame of film contains two images stacked on top of one another; one for the right eye and one for the left eye. Each image is two perforations high and is combined on the screen with a special split lens.
We were first shown digital footage which included a clip from "Ice Age: Dawn of the Dinosaurs" along with the trailer for "Avatar". The same exact footage was then screened on film. Keeping in mind that some of the film-based systems I've seen were demonstrated in less than desirable conditions, Panavision's produced the most pleasing results. It was almost impossible to tell that it was film and not digital.
To show how bright the 7.5 foot lamberts reaching each eye are a 30 foot white screen was lowered over the top half of a silver screen of the same size to provide a side-by-side comparison while watching some of the film footage. On the sides of the auditorium the white screen appeared to be brighter than the silver one. In the center of each row the silver screen, as expected, was noticeably brighter, though not overly so.
Afterwards some who had seen the demonstration said that the colors were off – a little too yellow. However, this could have been due to color timing or the fact that the content was mastered for 4.5 foot lamberts of light.
For the purposes of the demonstration a Sony 4K digital cinema projector was used, although it was said that they are working to integrate the system with Barco, Christie and NEC projectors as well. As for the glasses, they are reusable, as I mentioned, and it was estimated that they would cost in the $5 to $7 range.
Although Panavision's first technological innovations in the 1950's were projector optics for anamorphic wide screen theatrical exhibition, the company is well aware that these days nobody thinks of them as a manufacturer for exhibition products, which is why they have reached out to a former sister company, Deluxe, for help with development as well as marketing and promotion.
Panavision will probably be able to benefit from studying the business models used by some of the pioneers in recent 3D technology as they enter the market. There are no set plans for how to commercialize the solution, but Panavision indicated they are turning to potential customers for guidance.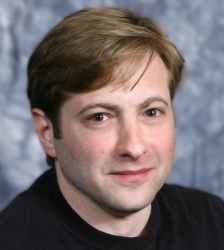 Latest posts by J. Sperling Reich
(see all)