[viddler id=ad507ee&w=545&h=349]
Starting with this entry we're going to try something a little different and from time-to-time begin posting video interviews and demos of some of the technology and companies we come across.  You may enter comments directly in each video by clicking on the  plus (+) sign in the progress bar.
A few weeks ago I had the pleasure to visit an interesting company that has been flying under the radar in the digital cinema space.  I had never heard of DFE Technologies when I ran into Talla Garestani, DFE's a project coordinator, while standing in line at the Apple Store in Woodland Hills.  What she told me about DFE peaked my interest enough to want to find out more about them.
For the past several years DFE has been perfecting a hard drive duplication and distribution system for digital cinema.  While some digital content is delivered to movie theatres via satellite, most of digital prints make their way onto screens via hard drive.  There has been numerous reports about such hard drives arriving at their destination and not working properly.  DFE believes their system could provide the solution to this problem.
DFE's Digital Cinema System consists of several products starting with the SmartPac, a hot swappable SATA hard drive encased in a durable aluminum shell.  Unlike most of the drives being shipped to theatres today, which were only meant to be removed from servers should they fail, DFE's drive was designed specifically for traveling.  The company has been shipping them out to theatres using a hard case with a form fitting foam insert.
Once the drive arrives at theatres, it is inserted into DFE's Network Port, a specially designed network attached device with two slots that the SmartPac drives easily slide into.  Should a theatre not be equipped with a network, then a portable unit DFE has named BackPac can be carried to each server and transfer content via USB.
What's interesting is DFE's business model; they plan on giving the Network Port and BackPac away to exhibitors and only charging those that wish to distribute content per hard drive.  (I was asked not to publish DFE's pricing, though I can tell you, based on what I've heard about current d-cinema duplication prices, it is incredibly reasonable.)  They have built special servers that can duplicate eight drives per unit.  Up to 255 drives can be duplicated at once in just under real time.  As each drive is duplicated DFE's software performs three bit-for-bit verifications to ensure all the data has been transferred properly.
Over the past year DFE has been working mostly with alternative content distributors and out of the more than 1,000 drives they've shipped out, only one has failed.   In the video interview accompanying this post, DFE's COO, G. Jeffrey Hopkins, goes into much more detail about the company's technology and shows off a few of the products.  If you are attending ShoWest then you can visit DFE at booth #1913.
It seems as if DFE may have built a better mousetrap here, but we'd like to know what you think of their system.  Is it a feasible solution for distributing digital cinema content?  What pros or cons do you see in their products or business model?  Please enter your own thoughts in the comments section below so that the distribution and exhibition community can engage in a constructive discussion.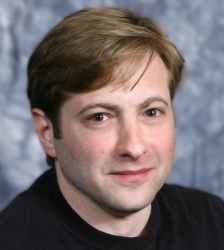 Latest posts by J. Sperling Reich
(see all)