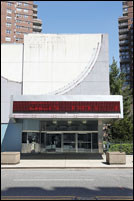 The Chelsea West Cinemas in New York City has long been a home to film industry events such as premieres and trade screenings. Now, in what Variety is calling "one of the boldest moves in Gotham exhibition this decade" the School of Visual Arts has taken out a 26-year lease on the theatre and will spend the next several months renovating the venue to reopen it as a repertory theatre. (AMC opening the Empire 25 on 42nd Street in 2000 directly across the street from a Loews multiplex must not count as bold, just extremely confident.)
The Chelsea West, which opened in 1963 as a single-screen theatre, is a 20,000 square foot, two-screen complex which had been operated by Clearview Cinemas until SVA recently took over the lease. Clearview will still operate the Chelsea, a nine-screen complex just across Eighth Avenue which shows first-run features.
The School of Visual Arts, a fine arts college, will spend the next few months fixing up the theatre with designer Milton Glaser. It will reopen as the Visual Arts Theater and will not only show repertory cinema, but also serve as a home for film festivals, trade screenings and special events. Michael Grant, an SVA spokesman, couldn't provide details about the programming which will be shown but announced that a deal with the Museum of the Moving Image was in place and partnership talks had begun with groups such as Cinematheque Francaise, Women in Film and the National Board of Review. Gene Stavis, an SVA facult member, will act as the theatre's director.
As Kent Jones, an assistant programmer for the Film Society of Lincoln Center, pointed out, New York City used to be a film lover's paradise with numerous revival houses:
"There's nowhere to go but up in terms of repertory cinema in New York. When I got to town (a generation ago) there were dozens of them."
Now, Lincoln Center's Walter Reade Theater and the Film Forum are some of the last two venues left which show repertory programming.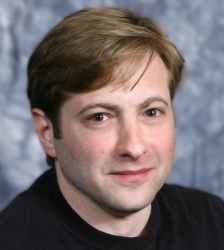 Latest posts by J. Sperling Reich
(see all)