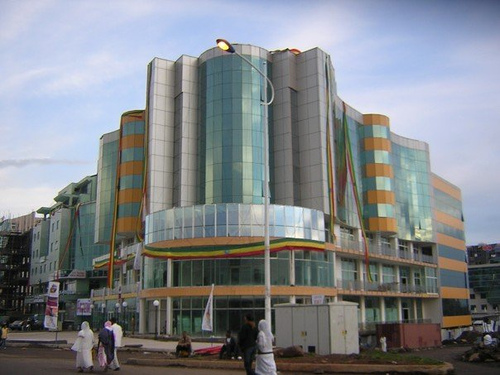 This past Friday a three screen movie theatre officially opened in Addis Ababa, Ethiopia's capital city, marking the first multiplex theatre in the country's history. The theater resides in the eight story Edna Mall complex and was built by one of the countries largest real estate developers, Teklebirhan Ambaye.
Ambaye reports that he spent 28 million Ethiopian birr, roughly USD $3.1 million on building the theater and equipping it with the latest in digital cinema technology, including projectors from Christie and surround sound systems from Dolby and THX. A story on the opening published in the Addis Fortune related that the interior of the 100 plus seat auditoriums are furnished with "plush blue seats complete with an armrest cup holder for the beverages sold in the lobby".
The Ethiopian Reporter quoted Ambaye boasting:
"The sound and picture quality are the same as you would get anywhere in the world where they claim to have the best."
Ambaye is planning to bring Hollywood blockbusters into the country, opening films just two days after their initial release in the United States. The Reporter goes on to humorously state that the Matti Multiplex will show three different films five times a day whether there are capacity crowds or "there is just one customer". While that may be Ambaye's intention, someone might want to inform him that some Hollywood films, specifically those by the likes of a Peter Jackson or a Steven Spielberg, can run over 140 minutes and thus getting five shows a day in for every film might be a tad difficult.
Ambaye is quite excited about the opportunity to bring Hollywood's latest hits to Ethiopia and was quoted in the Fortune saying:
"The exclusive partnership we signed with US leading movie distributors like Universal Pictures and others will enable us not only to screen box office films but also to choose among them and pick which ever we think is best suited for the Ethiopian audience."
This doesn't preclude home grown films from being screened at the theatre. In fact, the multiplex opened just after the second Ethiopian Film Festival. Despite this, local filmmakers hoping to screen their latest work in the Matti Multiplex will have to exhibit their films with 35mm prints or at the very least turn up with a hi-def DVD. Ambaye is hoping this will cause Ethiopian filmmakers, producing Amharic language movies, to improve the quality of their work so that it can compete with international competition.
Speaking of competition, Matti Multiplex will be competing with the single screen Alem Cinema, also located in Addis Ababa. Matti is charging 30 birr (or USD $3.40) for matinee shows and 40 birr (or USD $4.50) for evening screenings, whereas Alem only charges 15 birr (or USD $1.70). When speaking about his ticket prices Ambaye told the AfricanNews:
"The price we ask for these box office films is very cheap when compared to the USD $11 U.S. theatres ask but we had an exhaustive negotiation with the film distributors and convinced them to accept it as future investment rather than to look at the current balance."
But the Matti Multiplex will not only have other movie theaters to compete with. Both Ambaye and Hollywood studios will be going head-to-head with an influx of low quality pirated DVDs which are rented by local stores for two birr (about USD $0.25) or sold on the streets for seven birr (or roughly USD $0.80). The DVDs have infiltrated Ethiopia en masse due to their affordability and convenience; entire families and neighborhoods can watch a single DVD without purchasing separate tickets.
Even with DVD technology proliferating Ethiopia's capital, Internet penetration is miniscule throughout the country, which might explain why the Matti Multiplex doesn't yet have a website.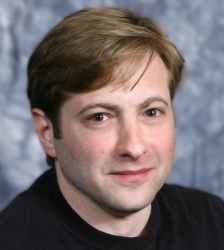 Latest posts by J. Sperling Reich
(see all)