3 June 2022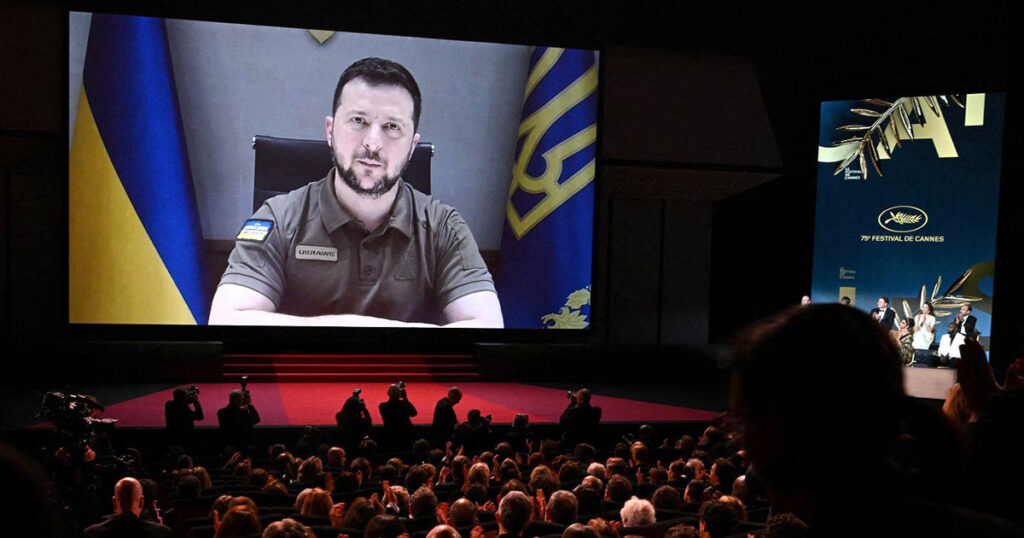 The Marquee will be a little different this week as both our editor, Patrick von Sychowski, and I are just returning from the Cannes Film Festival. Rather than our usual newsletter which features the latest news updates from around the industry, we're going to change things up by focusing on the 75th edition of Cannes, though perhaps not in the way you might expect.
We could fill you in on all the movies we saw, many of which will soon be playing in cinemas around the world, and explain how Swedish director Ruben Östlund won the festival's top prize, the Palme d'Or, for his latest film, the English language social-satire "Triangle of Sadness." However, you can read about that in our CJ News coverage of the event. Likewise, we could expound on the yeoman's effort made by the likes of Christie, Dolby and Harkness Screens to help France's Higher Technical Commission for Sound and Images (CST) pull off dozens of screenings each day, though you can learn all about that by watching the CJ Cinema Summit from 19 May, produced live from Cannes.
Instead, we wish to focus on how the Cannes Film Festival managed to protest the ongoing Russian invasion of Ukraine in both overt and subtle ways to great effect.
From the outset of the war in Ukraine, Cannes looked to support the country's citizens by announcing in March that unless the military aggression came to an end, the festival would "not welcome official Russian delegations nor accept the presence of anyone linked to the Russian government." Whether this meant Russian filmmakers and their work would not be invited to participate was unclear at the time. Any confusion was clarified when Cannes selected "Tchaikovsky's Wife," the latest movie from Russian director Kirill Serebrennikov, a known Kremlin critic, to appear in competition. The ban did, however, extend to most Russian journalists, who the festival chose not to accredit this year.
Any notion that these would be the only actions Cannes would take to protest a war on the edge of Europe was quickly cast aside when during the festival's opening ceremony, rather than show a montage of films in competition, as is customary, Ukrainian President Volodymyr Zelensky appeared via satellite. He received a standing ovation from the audience, bedecked in black tie and evening gowns, before going on to make an impassioned speech about the importance of cinema in fighting against tyranny.
"The most brutal dictators of the Twentieth Century loved cinema," Zelensky said while pointing out that "the most important thing left after them is the eerie documentary footage of the newsreel."
Speaking in Ukrainian, many of the cinematic references Zelensky made were not immediately understood by most, but his ten minute speech was peppered with dialogue from movies set amidst war, including a few prior Cannes selections such as "M*A*S*H" and "Apocalypse Now." He aptly returned to one film several times, Charlie Chaplin's "The Great Dictator" from 1940.
"On February 24, Russia began a war of huge proportion against Ukraine with the intention of going further into Europe," Zelensky continued. "Hundreds of people die every day. They are not going to get up after the end credits. Will cinema stay silent, or will it talk about it? If there is a dictator, if there is a war for freedom, again, it all depends on our unity. Can cinema stay out of this unity? We need a new [Charlie] Chaplin who will prove that, in our time, cinema is not silent."
In a rousing conclusion, Zelensky quoted and added to Chaplin's speech from the end of "The Great Dictator" by stating, "It's necessary for cinema not to be silent. To those who can hear me, I say, do not despair. The hate of men will pass, and dictators die. We must finally win this battle. And we need cinema that will provide just such a finale. So that every voice is on the side of freedom."
After Zelensky's dramatic and headline grabbing appearance nobody would have faulted Cannes for allowing the war in Ukraine to fade into the background. The festival chose instead to answer Zelensky's call to ensure cinema would not remain silent, at least not during Cannes. Just days before the event began, the festival added "Mariupolis 2" to its program; a documentary by Lithuanian filmmaker and anthropologist Mantas Kvedaravi?ius, who was taken captive and killed by Russian soldiers on 30 March during the siege of Mariupol.
Designed as a companion piece to Kvedaravi?ius' 2016 documentary "Mariupolis," the filmmaker embedded himself with a group of citizens taking refuge at a Christian evangelical church on the outskirts of Mariupol. For weeks he shoots video in-and-around the church in long takes. The sound of exploding bombs and mortar fire is incessant and grows closer with each passing day, shaking the walls and breaking windows. We accompany residents as they venture out of the church into the surrounding neighborhood which has been completely destroyed. We walk over dead bodies with them, pick through the rubble for anything useful and spend time trying to light fires for cooking. Kvedaravi?ius shoots the city skyline from the top of the church on numerous occasions, and we watch along with those in hiding, as smokestacks in the distance disappear over time.
It would be hard to say "Mariupolis 2" is a "good" film in a traditional sense. It is not "bad" either. It is a historical document of what it feels like to be living through Russia's invasion of Ukraine in real time. To know what it's like to be trapped in a building while a war inches closer to you. To wake up one morning and discover Russian soldiers have placed mines outside your front gate. Austere would be a suitable description. As would mundane. But that's the point. Unlike the slick packages stuffed with action broadcast by the BBC and CNN, Kvedaravi?ius shows us exactly what life is like in the Eastern part of Ukraine right now with all its terrifying and at times boring detail.
It is hard not to feel the immediacy of "Mariupolis 2," given that some of its footage was shot less than six weeks before it premiered in Cannes. After Kvedaravi?ius was killed, his fiancée Hanna Bilobrova completed the documentary, stringing the footage together in a way that captures the devastation. Ironically, another documentary screened at this year's Cannes Film Festival should not feel nearly as timely as it does, since the war it shows us is at least as old as the festival itself.
"The Natural History of Destruction" by Belarusian and Ukrainian filmmaker Sergei Loznitsa is comprised entirely of rarely seen and newly discovered archival footage from Germany and the United Kingdom before, during and after World War II. Focusing on the aerial bombardment relied upon during the second world war, there is no narration or narrative to speak of. There is hardly any dialogue, and what talking there is comes from military commanders and politicians. Instead, Loznitsa shows rather than tells, starting us off with footage of German and British cities from before the war with people going about their quotidian lives. He takes us through nightly bombing runs which look eerily beautiful until you understand what you're watching. We see military aircraft and bombs being built by Germany and the United Kingdom. We then watch as those bombs are loaded onto planes and dropped in abundance onto German and British cities.
Loznitsa eventually brings us back to those cities from the start of the documentary, now flattened by ordinances. Survivors walk along sidewalks going about their business past dead bodies. A warehouse is turned into a morgue with bodies laid out so civilians can be identified. Throughout most of the film Loznitsa doesn't identify the footage as being either of Germany or the United Kingdom. And in the films finale it hardly matters. The destruction has been collateral and complete for both; rubble is rubble and one wrecked building looks like any other no matter where it falls on the map. In fact, it looks exactly like the images we now see of Ukraine. Seventy five years later and bombs are still being used to demolish cities and lives.
"The Natural History of Destruction" showed toward the latter half of the festival at a time when, in the throes of a hectic industry event, attendees may have put Ukraine out of their mind. Programming Loznitsa's documentary was one way for Cannes to remind everyone of the reality waiting for them after the red carpet is rolled up at the Palais des Festivals this year, without a need to mention Ukraine.
It is with films like "Mariupolis 2" and "The Natural History of Destruction" that Zelensky's wish for cinema not to remain silent is being fulfilled. And though many film festivals make political statements through their programming, it isn't always done with the speed, agility or effectiveness as the Cannes Film Festival demonstrated this year.
Sponsor Spotlight
Go in-depth with Tom Cruise as he discusses Top Gun: Maverick
Watch Tom Cruise share his experience creating Top Gun: Maverick, the filmmaking process and the role Dolby Vision and Dolby Atmos play in bringing the story to life.
---
Celluloid Junkie is the leading online resource dedicated to the global film and cinema business. The Marquee is our newsletter focused on motion picture exhibition; keeping industry professionals informed of important news, the latest trends and insightful analysis