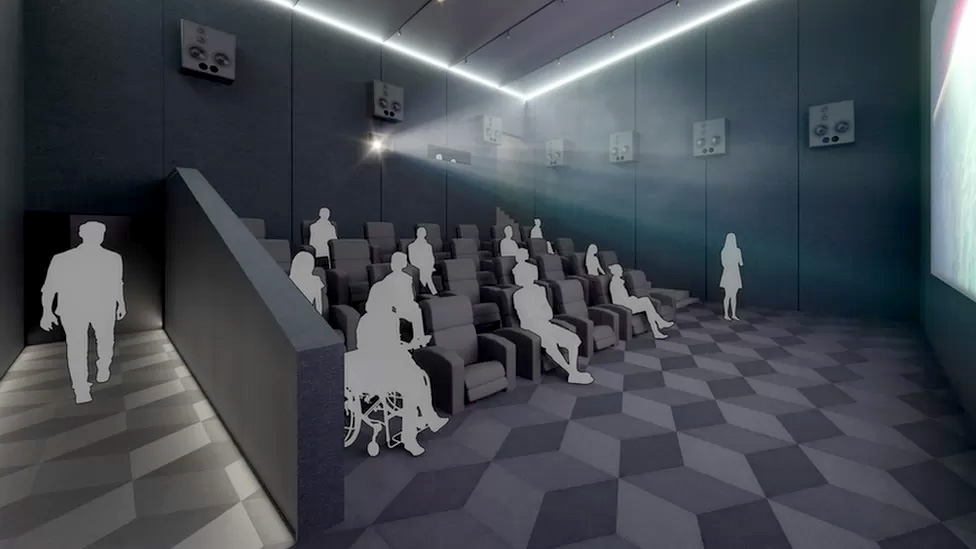 We've heard of studios doing test screenings to gauge the audience response of a movie before it's release, but now a cutting-edge cinema plans to take the concept to a whole new level when it opens in Bristol, United Kingdom in May of 2024. The Instrumented Auditorium, located at the University of Bristol's MyWorld creative hub, is the first theatre of its kind to be equipped with advanced monitoring technology which gives it the unique capability of monitoring audience reactions in real-time. The initiative aims to revolutionize content creation, offering insights that could influence commissioning, direction, and production strategies for films and television shows. So essentially, a very modest goal that nobody has ever previously attempted (sarcasm intended).
The 150m² cinema, supported by a GBP £400,000 (USD $509,600) grant from the UK charity the Wolfson Foundation, will utilize monitoring equipment to record audience members' biometric responses while they watch and listen to content. This includes measuring heart rate, eye movement, brain activity, and even the electrical properties of the skin to gauge subconscious emotional and sympathetic reactions. So instead of having to fill out that pesky questionnaire at the end of a test screening, audiences will presumably only have to unplug all the diodes and measurement devices.
Iain Gilchrist, professor of neuropsychology at the University of Bristol, highlighted the collaborative nature of the project, involving partners such as BBC, Aardman, Netflix, and Google. Gilchrist explained, "The Instrumented Auditorium will allow us to stream data that captures audience responses moment by moment, providing unique insights that take us way beyond current questionnaire-based methods. This is the first fully instrumented facility of its kind in the world, which is exciting not just for us as researchers but for those working in the creative sector, providing insights which will shape the future of film, television and beyond." While it's easy to poke fun at such a concept, if it winds up offering a new level of understanding of audience engagement and preferences, thus transforming the entertainment industry, we'll be the first to become film industry stereotypes by claiming we always knew it would be a huge success.
Source : BBC