Celluloid Junkie visited Kyiv's Blockbuster Mall for a tour of Planeta Kino and a chat with CEO Natalia Baydan and found that the future of Ukrainian cinema might already be here.
The Blockbuster Mall is possibly the shiniest building in Kyiv. A gleaming lump of burnished aluminium and crystalline glass on a Dnipro promontory sandwiched between grimy boatyards, it's impossibly, clinically clean. This gaudy, post-industrial architectural hubris is normally something to which I'd give a hard pass, however right here, right now, this building seems much more like a victor's medal held aloft by a battered-but-unbowed European capital than any simple confection of steel and concrete. Following a near-fatal ladder of hurdles in the form of Covid and the Russian invasion, the gemstone at the heart of this well-deserved trophy is Planeta Kino.
Planeta Kino at the Blockbuster Mall is the headquarters of Natalia Baydan's cinematic universe, a glossy citadel from which she oversees ten cinema multiplexes nationwide. She's clearly a proud lady; proud of her staff, proud of the expansion, and proud to contribute to Ukraine's resistance. We spoke at length about why the cut-and-paste cinema experience isn't for her.
Natalia tells me customer feedback is key to the success the chain is achieving. "We just follow the suggestions of our clients. We are trying to provide everything they need or they want." As margins are squeezed globally in the cinema business, Planeta Kino has made a risky decision to reduce the seating in their screens to give customers a more bespoke experience.
She shows me into one of the RE'LUX screens. Containing just six to eight seats in a row, the armrests either side of the deeply comfortable red leather chairs contain blankets, pillows, and individual iPads to give cinemagoers access to the full restaurant menu, which is served by silver service-trained waiting staff.
To some purists, the idea of waiters stalking the aisles with steaming crockery may seem antithetical to the true cinema experience. And worry not, purists; Planeta Kino also caters for you, too. The genius here is that one moviegoer's red lines do not impinge on another's; it's an environment where no boilerplates exist, each location being informed by its unique clientele.
The menu is a sumptuous mix of classics – burgers, tacos etc – as well as more exotic fayre, such as sushi and who'd-have-thought-it pizzas (duck and peach, anyone?) – all prepared freshly onsite in glass-fronted kitchens. If the idea of being served hot food as you sink into Phase 5 of the MCU doesn't appeal, then simply enjoy the plush restaurants outside the screen and select one of the screens without waiters. If popcorn and Skittles is more your jam, then that's fine, too.
"We were the first ones in our market that offered our clients different kinds of services; how to book the tickets, how to buy them, and we started studying different kinds of options for our clients, even to order some concessions before you come to the cinema, in order to get it here and not to [waste] your time. But as soon as we opened our cinema markets, we decided maybe it's better for our clients just to walk around, and maybe to buy something [different]. And that's why we concentrated our efforts in order to make it very affordable, very comfortable for our clients of these cinema markets."
What the customers want, the customers get, even if those demands are polar opposites.
Critically, Baydan's choice to restrict the seating in some of her screens may have seen the company safely through Covid. "I can say that even during covid – it was the hardest time for us, if we don't talk about war – it was really some kind of terrible issue for all the cinemas. I mean the cinemas in the world, not just the cinemas in Ukraine, for sure. So, and still here, we had more clients than in ordinary halls, because here you can sit separately with the rest of the audience and you can enjoy some of your food alone, and you have no clients very close to you. So, this is why these halls were much more popular than ordinary ones."
Although a passion for cinema is clearly coursing through her, Natalia also has a slightly nerd-ish love for the technology behind the experience. Although she had secured investment in 2006, before finally opening Kyiv's first Planeta Kino in 2009, she travelled widely to secure the most modern accoutrements available. But it was the rumour of the power of IMAX that first caught her imagination and guided what she wanted to offer her customers.
"Our IMAX here, this is exactly why I am in the cinema business"
"Our IMAX here, this is exactly why I am in the cinema business. Many years ago, when I assisted with the opening of one of the cinemas in Chernivtsi, I vowed to visit different kinds of cinema exhibitions to find proper equipment, chairs, everything, and during one of my visits to the exhibition, I heard about IMAX. So I didn't see what it was, but I heard about it. And I decided, 'Look, guys, I will do everything possible to bring this to Ukraine'."
Already enthralled by the mere promise of the technology and having travelled all the way to Warsaw to see her first IMAX film, it is obvious what a powerfully Damascene experience this was, the spark in her eyes almost transporting me back right alongside her. What was the first IMAX movie she saw? "Space Station!" I commit the one act of self-flagellation guaranteed to send any film journalist into a gnashing fit of self-loathing and sheepishly confess that I haven't seen it. Baydan's infectious spark finds another gear; "Really? You have to! if you have any chance, you should. It's really an absolutely amazing movie!"
It is both a natural necessity and a logical conclusion in the current climate that all talk eventually turns to the war. Baydan was integral in the plea by Ukrainian cinema operators for Hollywood studios to return to Ukraine. "From the very beginning of the war, my main mission was to bring Hollywood studios back to Ukraine. Because they left not just Russia, but Ukraine as well. And it was very, very difficult, honestly. So, it took me some very strong efforts to bring some Hollywood studios back to Ukraine, just because they were very afraid of everything, what's happening in Ukraine now. So, Disney, for example, they couldn't imagine that, you know, some missiles strike the cinema during their movie, obviously with some families inside. It was very difficult for them to come to the decision and come back."
Baydan used the example of Israel to seal the deal with Hollywood. "I tried to explain, 'Look, guys, take some experiences in Israel; they have all these issues too, for many, many years, but still they work'. They live, they work, so they enjoy their cinemas and their restaurants."
Just as many governments worldwide stand in solidarity with Ukraine, so the cinema world stood with their colleagues in the besieged country when Russia began to deliberately target civilian buildings and infrastructure. "Now it's complicated. It's very, very complicated. Thank God we were not affected much by missile strikes if we compare with our colleagues here in the Ukrainian market. Because many cinemas were ruined, down to zero, nothing. So just one of our cinemas was affected in Odesa," with a missile strike in May of 2022.
Facing a huge repair bill at a time when curfews and air raids were decimating her business, Natalia was overjoyed to receive help from an unexpected source. Phil Clapp, Chief Executive of the UK Cinema Association, contacted Baydan with an offer to assist with the costs of rebuilding the screen. "Our colleague from the United Kingdom, Mr Phil Clapp, they arranged some donation for us, they collected some money and assisted us to repair everything and to reopen it.. He helped me very, very much, and still I'm very, very grateful to him."
The perennial question on every cinema executive's lips is where the next blockbuster will come from. Baydan has two suggestions for her market. "You know, if we are talking about commercial, some 'mass' product, it will be "Mission: Impossible." No doubt." I push a little more for the title at the top of her list. "If you ask personally me? I am waiting for "Oppenheimer"… [Nolan's] movies are specially for IMAX halls, so this is why it's absolutely important and necessary to go to an IMAX cinema and watch it there."
Beyond the nuts and bolts of running a chain of multiplexes in Ukraine, it is striking how selfless Baydan's approach has been since the invasion. She talks about the war not in terms of shareholders or to-and-by, but how hard she is working to keep her staff employed, how exceptional they are at their jobs, and how exceptional staff are essential in maintaining a happy clientele. Most telling of all, she talks about her competitors and their experiences with a level of compassion rarely seen at C-suite and above.
"So, during many years we tried to follow all the best practices in the world for cinema experience. We visited all the exhibitions; so in Las Vegas, Barcelona, everywhere, just to understand how it works and what new we have."
Listening to her stories of spending her downtime scouring the world for exemplary practice, endlessly touring cinema business expos in North America, Europe, and Asia to perfect the customer experience, this is why the Blockbuster Mall is rapidly starting to grow on me. Beyond the mirror-like floors and past the high-contrast Karl Lagerfeld and Hugo Boss concessions sits a wing of this bastion of commercialism that is governed by a CEO who personalises corporate decision-making, who solely cares about the cineaste and their enjoyment of a movie at a time when nothing can be predicted.
"We work in a situation when it's difficult for us to make any forecasts for anything. I have no idea what will be during the next one hour, not just the next month or two"
Baydan's strategy of both trial-and-error and feedback-guided operations has positioned Planeta Kino at the forefront of cinema management not just in Ukraine, but perhaps Europe-wide. (It is surely no coincidence that she was recently named #2 in the list of Top Women in Global Cinema 2023.)
I never knew hand-buffed quartz tiles and steel frames could inspire such warmth and admiration.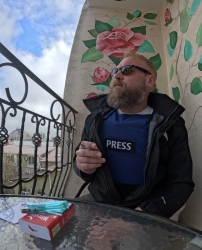 Latest posts by Mark Law Hitchings
(see all)