Two movies hitting North American cinemas over the next three weeks are primed to do blockbuster business. Unlike most blockbusters however, they aren't being released with the support of multi-million dollar marketing campaigns. Both are derived from properties that originated from a source cinema owners' have traditionally considered their biggest nemesis; television.
Despite their small screen provenance, if either or both titles perform as expected, it could set a new paradigm for how Hollywood goes about distributing certain films and we can expect to see the concept duplicated.
Son of God
The first of these films to hit multiplexes (in North America and Latin America) is "Son of God". The movie is an abridged reworking of "The Bible", a 10-hour mini-series that aired on the History Channel less than a year ago. The new theatrical adaptation whittles the television version down to 2 hours, 38 minutes and is recut to focus solely on the story of Jesus Christ.
The television mini-series was an all inclusive tale that included Bible stories from the Book of Genesis through the Book of Revelations. When it premiered last March on the History Channel to an audience of 13 million, it set the 2013 record for cable viewership and was the most watched program the network had ever produced. The Blu-Ray and DVD release of "The Bible" was just as successful going on to become the all time sales champ for mini-series on home video.
The mini-series was the first scripted program from Mark Burnett, a veteran of reality-TV producer of such shows as "Survivor" and "The Voice". He produced "The Bible" with his wife, Roma Downey, and it was always their intention to extract a theatrical release out of the series. The only question was who would help them release the film. The answer was Twentieth Century Fox.
On the run up to the February 28th release of "Son of God" Burnett and Downey went on an extended publicity tour, showing excerpts of the film to various Catholic and Christian religious groups throughout North America and certain international markets. The gambit seems to have paid off, for much in the way pastors and clergymen promoted "The Bible" to their congregations, they have also used the pulpit to encourage their flocks to go see "Son of God" upon its release.
A week before its release numerous media outlets, starting with the Hollywood Reporter, began picking up on the escalating advance sales the film was generating. The trade publication discovered that a children's charity, Compassion International, had purchased 225,000 tickets in 40 cities and gave them to local churches to disperse.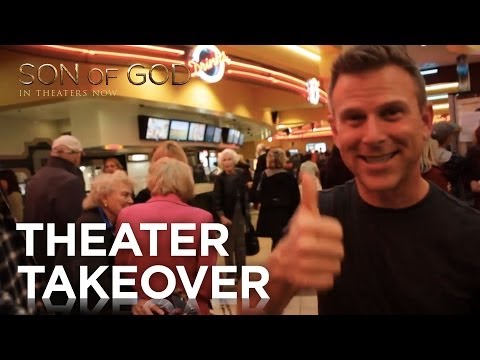 It was reported that at least 10 multiplexes around the United States were booked solid by church groups and organizations. Not just in a single auditorium, but in what was dubbed a "theater takeover" every single screen in these cinemas was scheduled to show "Son of God" the night of February 27th.