The China Film Association and other units launched the "2014 Chinese Film Art Report" and "2014 China Film Industry Report" earlier this week in Beijing.
The reports analyse cinema consumption patterns of domestic Chinese films and finds that they are primarily driven by females, Millennials and repeat viewing, with an astonishing per head spending of several hundred dollars per month at the multiplex. The reports also worries about the "shallow" themes of some of the most popular Chinese films.
With foreign (mainly Hollywood) films restricted in the Mainland market under the 20+14 quota, China's cinema growth is taking place mainly on the back of domestic films. The government is keen to encourage this growth, which is why it is focusing research efforts on understanding cinema consumption patterns.
These two reports look at 2013 releases, which totalled 311 movies, of which 250 were domestic films(1) and 61 foreign films(2). Out of these 219 were categorized as genre films, such as comedy, romance, and action films, while 31 were categorized as "non-genre".
It notes that out of 59 films that earned more than one billion yuan at the box office 32 were domestic, with domestic films accounting for 58% of overall takings, the highest number ever for Chinese cinemas.
'A Great Leap Backward'
The report and articles about it seize upon the youth focus and themes of the most successful films.
It is noteworthy that the themes about the current urban population of the urban youth film themes of love and youth, grow up to become a dark horse, and rescue. The higher box office films "To Youth", "Tiny Times", "Chinese Partner," "Break the Contract", "That Was Stolen Five Years", etc., all have a youthful theme. But the report notes that, while a good number of youth films, many of the movie lacks intrinsic emotional power and creative artistic qualities, and themes of these films focus on youth and substance, youth and love, youth and nostalgia, but lack a richer ambiguity.
The article goes on to lambast the "speculative mentality prevailing" in many youth films with the highest market share, saying "the youth theme of this bonanza is shallow excessive consumption." The sentiment is perhaps understandable as even western media has latched onto what makes films such as "Tiny Times 3″ so popular.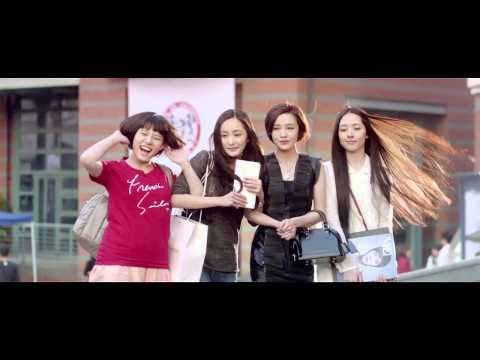 Here is for example what the BBC had to say about it:
Tiny Times couldn't be further from Mao's ascetic communism: it is a wholesale celebration of conspicuous consumption and materialism that has been described as a cross between Sex and the City and The Devil Wears Prada.

The series follows four attractive, fashion-obsessed young women in Shanghai: Lily, Ruby, Lin and Nan Xiang. It chronicles their lives and romances. The actresses look perfect – nicely groomed and slim. There are constant references to sports cars and expensive brands such as Prada and Gucci. The characters are often in opulent surroundings as they enter into relationships with handsome, well-dressed men.