Secret Cinema's Grand Budapest Hotel throws open its doors in London… UK and Ireland get drive in cinemas (both showing Grease)… Chinese crack-down on ticket fraud… Brooklyn's oldest independent cinema goes Indigogo for digital… Some news from Germany… Learn a new word (Kinosterben) as two art-deco masterpieces are gutted and only facades remain… Russian megaplax goes for expansion with RealD's Luxe… and seven reasons to go to the cinema on your own.
Secret Cinema's The Grand Budapest Hotel has been getting rave reviews (we plan to bring you our own shortly), as the man behind it reveals future plans.
Tweets of outrage greeted Secret Cinema's latest – and not because it un-Secret-ly announced it was a worldwide preview of the acclaimed new film by Wes Anderson (The Royal Tenenbaums, Fantastic Mr Fox).

Sample scoff: '£53 a ticket? I could fly to Budapest and back for that.'

But then Secret Cinema offers more than just cinema. It's closer to the immersive theatre experiences of Punchdrunk (which also charges around – or, crucially, just under – £50 a ticket). LINK.
In fact, the showing has been such a success that it has already been extended until 30 March and is getting top marks from the London Evening Standard's Chief Arts Correspondent.
The peculiar eastern European nation of Zubrowka has been recreated in a derelict lead and glass factory as the Secret Cinema team – who produce immersive theatrical experiences around screening films – bring Wes Anderson's new movie, The Grand Budapest Hotel, to life.

At Secret Cinema in the past, the thrill has been spotting characters – played by actors – and incidents enacted from favourite cult movies before watching the film again.

With The Grand Budapest Hotel not on general release until next week, the "Ah, of course…" sigh of recognition comes only upon taking a seat in the "ballroom" cinema to catch the end-of-evening screening. LINK.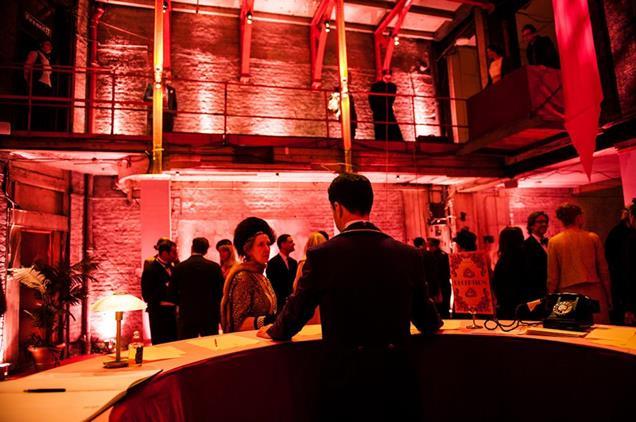 Talking to Screen Daily, Rigall reveals how they got permission to open the film a week early:
Having established a relationship with Fox through their production of Prometheus, Riggall proposed to distributor Fox Searchlight that Secret Cinema could preview The Grand Budapest Hotel before it goes on general release in the UK on March 7. They also secured the consent and approval of Wes Anderson's team.

"We are keen to build partnerships with the industry and Fox have given us a great vote of confidence in what we are doing," says Riggall, who originally trained at the New York Film Academy.

"This new series of Secret Cinema Presents will take certain films and release them in this way to create appetite and interest from audiences," he explains, highlighting how the company did a similar thing with documentaries The Imposter and Searching For Sugar Man.  LINK.
Next up Secret Cinema plans to expand in US and Asia, but first it has something really big planned for the UK this summer. Secret, of course.
Business
China: The Chinese government has slapped down a handful of cinemas that were falsifying box office reports to avoid paying tax and distributor rental.
Nine Chinese cinemas have been banned from screening new movies after they were found to have cheated in box office figures, according to two film associations.

Among them, six cinemas in east China's Shandong Province and northern Shanxi are banned until they rectify their practice and the other three are banned for one month, said a statement issued on Wednesday by the China Film Producers' Association and China Film Distribution and Screening Association.

The two semi-official organizations are under the State Administration of Press, Publication, Radio, Film and Television.

These cinemas were found to have reported fake box office figures to authorities, sold hand written (or no) tickets or hindered official box office inspections.

In one case, a cinema in south China's Hainan Province registered no audience at all in their computer system despite the screenings in question receiving viewers normally.
This fraud mainly took place in independently owned cinemas in tier two and three cities, where there is often cut-throat competition from over-building. The Chinese state is forcing all cinemas to move over to a national digital ticketing platform. LINK.
Russia: A Russian exhibitor with an American CEO (Paul Heth, above) is planning an aggressive megaplex and multiplex expansion drive in Moscow, St Petersburg and Siberia.
Russian cinema chain Karo Film said Thursday it would spend $150 million over the next two years in a capital investment and expansion program.

The investment program, in association with equity investors Russian Direct Investment Fund and Baring Vostok, will include building and developing what the company calls Russia's largest "next generation" movie theaters.
The first of the new cinema complexes, the Karo Vegas 22 Megaplex, where builders have already broken ground, is due to open in July in Crocus City, a major shopping and entertainment site on the outskirts of Moscow, easily accessible from the city's beltway MKAD road.

The 19,000-square-meter site will house 22 screens and 5,000 seats.
Interestingly it will be one of the first sites to feature RealD's Imax-competitor LUXE. LINK.