Den of Geeks recently posted an article titled 'Why is cinema so obsessed with Vikings?' It listed everything from Kirk Douglas eponymous 1958 widescreen epic, to the recent Marvel/Disney films featuring Thor. But while mentioning upcoming titles The Berserkers and Vikingdom, it overlooked perhaps the greatest viking spectacle coming to cinemas this year: Vikings Live from the British Museum.
The event will be distributed internationally by More2Screen, with whose Managing Director Christine Costello we have secured an exclusive interview to provide unique insights into how the event is being positioned and promoted.
From the Ashes of Pompeii
Vikings Live comes less than a year after the success of the British Museum's first event cinema outing, Pompeii Live in the summer of 2013, which took GBP £471,000 from 281 venues across the UK where it was seen by 53,885 cinema-goers and came 10th in the weekly film chart, despite being shown just once. Vikings Live looks set to cement museums and exhibition as a viable and profitable sector of event cinema that could see the floodgates open from other museums around the world. As quoted in the BBC:
British Museum director Neil MacGregor said the Vikings event would build on that success, going to 380 UK cinemas and some 50 countries around the world. "We're going to reach an even larger public," he said, adding the "worldwide opportunity to see what goes on here through cinema is very important". He said the guided tour, which will feature television historians Michael Wood and Bettany Hughes, would allow viewers to get "very, very close to the objects" on display, "possibly closer than you can in the exhibition itself".
The exhibition has had terrific reviews and seen a strong demand for tickets, not least due to the extraordinary Roskilde 6 ship.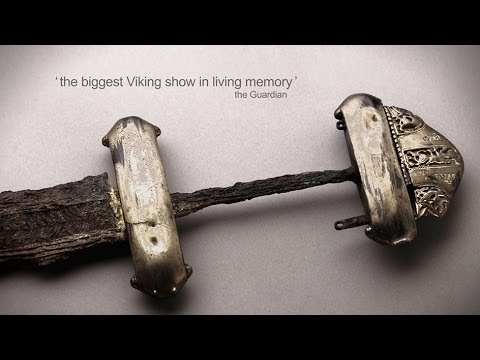 Based on the description by the British Museum, this will thus be far more than just a walk-through of the exhibition:
This special event offers an exclusive private view of the BP exhibition Vikings: life and legend in the company of world experts, presented live in your local cinema. A replica sailing ship will be installed in front of the Museum during the live broadcast, which will culminate in a dramatic Viking burial as night falls. With stunning close-up photography of the Viking swords and axes, coins and jewellery, hoards, amulets in the exhibition and a live, torch-lit burial in the grounds of the Museum, the broadcast of Vikings Live will be a reminder of how the Vikings have shaped our modern lives.
Note that the event is rated 12A, which seem the default rating for this type of events, but it means it could potentially feature things that could be frightening to small children. However, there will be a special event for them too, with a pre-recorded show aimed specifically at children to be shown on 5 June.
Called Viking Adventures it will be fronted by children's channel CBBC's presenter Ed Petrie, showing that there is joined-up thinking behind the Vikings Live event to cater to the widest possible audience. (Last year there was also a 'Pompeii Live for Schools', seen by 13,600 school children, which presumably featured fewer of the phallus status and amulets that were popular with the Romans and featured generously in the exhibition). Read More »